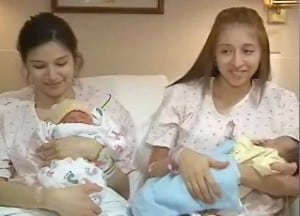 When my sister-in-law and I became pregnant at the same time and delivered 13 days apart of each other, we thought we were special. But even I was surprised to hear of two sisters, namely Brenda and Melissa Ortiz who not just became pregnant at the same time but delivered too on the same day, in the same hospital and by the same doctor!What is being quoted as a first at the Mankato Clinic, the two sisters were expecting to deliver in January. But both of them came early and under the expert guidance of Dr. Steve Penkhus, delivered two babies just 18 minutes apart of each other.
While Brenda gave birth to a baby girl, Melissa became a mother of a baby boy and what has stunned even the medics in the hospital is that both infants are of the same size and resemble each other a lot.
Dr. Penkhus expressed his disbelief saying, that after 39 years of practice and delivering 8,000 babies, this was still a first time for him. "This would be a very unusual finding for us, pretty exciting and one of those things that you just like to brag about." He added.
Although the phenomenon of two sisters becoming pregnant and delivering at the same time is very rare, the Ortiz family claims this has happened in their family before, making this incidence and their family especially unique. – Atula, Staff Writer
Other Amazing Deliveries:
SOURCE
---