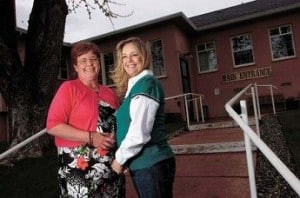 Two baby girls switched at birth have finally found out about the mistake – 56 years later.
DeeAnn Angell and Kay Rene Reed learned about the mistake from an 86-year-old woman who was a former neighbor.

The former neighbor said that one of the girls' mothers, Marjorie Angell, insisted back in 1953 that she had been given the wrong baby after nurses returned from bathing them.

But her concerns were brushed off.

With both sets of parents dead, the Reed and Angell siblings compared notes and family stories, learning that rumors of a mix-up had been around for years.

Kay Rene Reed decided to get some DNA testing done, and that confirmed the mistake.
The two women plan to move forward with their lives now. They recently celebrated their latest birthday together earlier this month.
Related Articles:
---