When we have children, as parents, we tend to keep a close eye on them after they are born. If they sneeze or cough, we have the pediatrician on the phone to see how we can make them feel better. By the time they are two or three years old, they become a little more independent, and we eventually realize that a little sneeze here and there probably isn't anything to worry about. The same goes for a little case of the hiccups, right? There aren't too many things that one can do to resolve a case of hiccups, so they're relegated to waiting for them to end, and sometimes, it can be downright cute watching a little one battle the hiccups. But for one little girl from the United Kingdom, her hiccups were anything but ordinary.
Louise Plant, 38, along with her husband, Mark Willis, 35, were both delighted when they learned they were pregnant with their daughter, Emma. Louise, who, for the most part, had felt fine during her pregnancy, may have suffered complications during the delivery.
She recalls what happened,
"She was only about five hours old when her colour started to change. They weren't happy with how she looked and the midwife decided to the doctor had better take a look at her. She looked like she was just hiccuping but it turned out those hiccups were in fact seizures."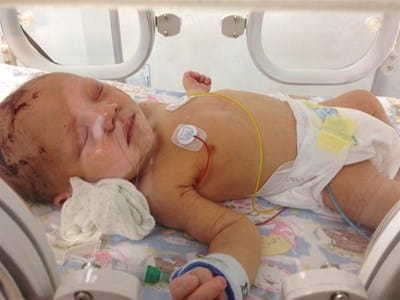 The medical staff informed the new parents that their newborn would need to be taken to Sunderland Royal Hospital, to be treated in their neo-natal unit. Louise says, "She was put on all sorts of medication, and they gave her all types of tests followed by an MRI scan." The shocking results arrived a few weeks later, when the family learned that little Emma had actually suffered a stroke. Louise said: "It could have happened during labour but they weren't able to tell us for sure. It was a massive shock for us, we had no idea a baby could have a stroke."
Because the stroke affected the left-hand-side of the girl's brain, both of her parents were told by medical professionals that they would need to keep an eye on Emma throughout her development, and keep an eye out for any issues that may arise. Louise recalls,
"It was a case of watching and waiting. By Christmas we had noticed there were some problems developing. She did not seem to have the movement in her right side that she did in her left. We went back to the hospital and they referred us for physiotherapy which she has been having up until February of this year."
However, little Emma is a fighter. She just recently turned two last week. Medical professionals have told the Willis family that the long-term effects of the stroke Emma had may still not be known for a while. Speaking of Emma's diagnosis, Louise said, "She was recently diagnosed with a challenging form of epilepsy which they believe was related to the stroke and we have to keep monitoring her for any learning or behavioural problems."
For the moment, the family is just taking life one step at a time and are enjoying watching Emma make great strides in therapy. Louise says,
"She is the most determined little girl I know. I sometimes wonder if she had not been like this, could she have made it through. Her favourite thing at the moment is Despicable Me 2 and she loves dancing to Pharrell Williams She loves nursery rhymes, books and all kinds of music."
Most people that meet the family cannot fathom someone so young having a stroke. But both Louise and Mark, and their newest little addition, 5 month-old Zach, want others to know that it can happen. Louise said,"We were devastated. We had no idea that someone as young as her could have a stroke. I just want other parents to know that it can happen and they should be aware."
Louise is set to participate in a 230m zip-wire challenge, to take place across the River Tyne, to support the Stroke Association on Saturday, October 18. If you would like more information, or to sponsor Louise, please click here.
---