The Federal Trade Commission(FTC) filed the lawsuit on Wednesday against Gerber Products Co., for 'deceptively advertising that feeding its Good Start Gentle formula to infants with a family history of allergies prevents or reduces the risk that they will develop allergies.'
In their advertising Gerber also called their Good Start Gentle's health claims as FDA-approved – a fact that was untrue.
"Parents trusted Gerber to tell the truth about the health benefits of its formula, and the company's ads failed to live up to that trust," said Jessica Rich, Director of the FTC's Bureau of Consumer Protection. "Gerber didn't have evidence to back up its claim that Good Start Gentle formula reduces the risk of babies developing their parents' allergies."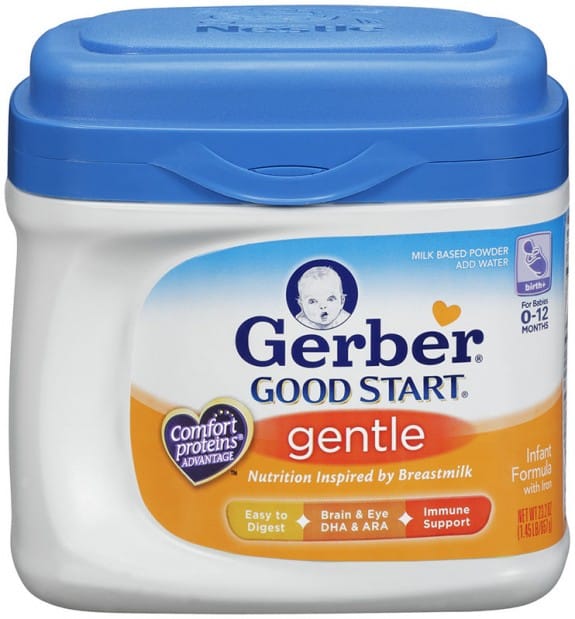 Good Start Gentle is made with partially hydrolyzed whey proteins (PHWP). Gerber claims that feeding babies this formula, instead of formula made with intact cow's milk proteins, will prevent or reduce the risk that they will develop allergies. In its ads, Gerber promotes Good Start Gentle by saying, for example:
"You want your baby to have your imagination…Your smile…Your eyes…Not your allergies."
Also, a sticker on the package states that Good Start Gentle Formula is the:
"1st & ONLY Routine Formula TO REDUCE THE RISK OF DEVELOPING ALLERGIES."
In their lawsuit the FTC notes that Gerber's inability to substantiate these claims scientifically is a violation of the FTC Act.
On their packaging, and in their ads Gerber also claimed that Good Start Gentle has qualified or received approval for a Food and Drug Administration health claim.
The FTC said this was false considering they petitioned the FDA for permission to make a claim connecting PWHP with the reduced risk of one type of allergy, atopic dermatitis, in infants, but were only allowed to do so if they made it clear that there is "little scientific evidence" for the relationship – which they didn't.
---
[ad]