One family is thankful their baby wasn't injured after a stuffed animal they bought following an ultrasound of their oldest child lost it's eye just inches away from their baby.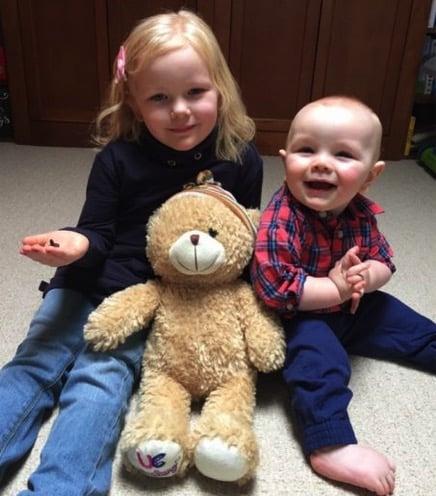 Chrissy White was pregnant with her daughter Carly when she bought a UC Baby Heartbeat Bear.  She had just had a 4D ultrasound done and wanted to have an audio recording of the baby's heartbeat, which the bear plays when you press its chest.
The bear was purchased in 2013 but sat on a shelf in her home until her son Dru's arrival last May.  That is when the bear went from being just a keepsake to a toy in his crib.
Last week, however, when Chrissy's mother went to get Dru after a nap she was shocked to find a screw in the crib, just inches from the baby's face.
"She ran up over the stairs excited to pick him up and saw him playing with the bear, but the eye had already fallen out and was just laying right next to him," Chrissy's husband Greg told CBC.

"It's very sharp and could easily pierce your skin, so I can just imagine what it could do if it was actually swallowed."
Shocked to see such a dangerous object so close to their son, the couple immediately wrote the company.
After posting their experience on Facebook, Chrissy was surprised, to hear from another couple in her city who had the same problem.
"To know that just within our group of friends there's another couple that had the same issues – if you extrapolate that out over the population, there could be a common issue maybe," Greg said.
After being contacted by the CBC, UC Baby founder Tina Urteten got in touch with the Whites, to let them know the company would no longer be selling that bear design with the plastic eyes.
They have been selling the stuffed bear since 2005 but after hearing about the White's bear, Ureten said UC Baby will now look at finding a newer, safer product.
"We decided to discontinue the bears with plastic eyes," she wrote in an email to CBC. "I am working on getting different bears which are from another manufacturer and they will be made with embroidery eyes."
In recent years toys companies have been switching from buttons or hard pieces to embroidered eyes and features on stuffed toys for kids.
The couple is thankful UC Baby took their complaint seriously and they hope their story makes other parents think twice before assuming all stuffed toys are safe.
"It's only a piece of plastic but I would even go as far to say that it's even sharper than a [metal] screw," Greg said, adding that it's lucky Dru didn't swallow it.

"Whatever he can get his hands on he will put in his mouth. So I guess knowing that, when you see that, it's a bit of a shock to the system."
---
[ad]