Last year, a 36-year-old woman from Sweden gave birth to a baby boy. But this wasn't any ordinary boy; he was the very first baby born from a transplanted womb. Thanks to her success, doctors from the Imperial College London in the UK have been given ethical approval to start a clinical trial that will allow 10 women from the UK to receive transplanted wombs and hopefully give birth to their own babies.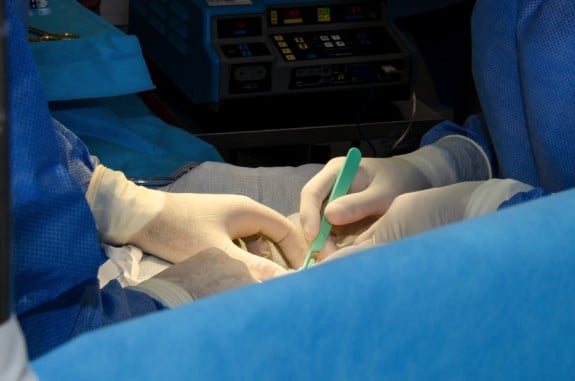 Led by Dr. Richard Smith, consultant gynecologist at the UK's Queen Charlotte's and Chelsea Hospital, the study has already gone through the initial selection process, settling on 104 of 304 applicants that met the strict requirements. Those requirements included an age of 24-38 (or having eggs frozen by 38), the ability to produce a satisfactory number of her own biological eggs, a body mass index of 30 or less, no major medical health problems, eligibility for care under the British National Health Service, and a long-term partner.
Only 10 women will ultimately participate in the study. Each will receive a womb from a donor who is deemed brain dead, but whose heart is still beating. Prior to that, each of the women will have embryos created using her own eggs and the sperm of her long-term partner. After the transplant, they will take immunosuppressant drugs for 12 months and during their pregnancy to reduce the risk of organ rejection.
If all goes well, and a successful pregnancy is achieved, she will be able to deliver via cesarean section between 35 and 37 weeks into her pregnancy to avoid any unnecessary damage to her new uterus. The women will then have the option of continuing the immunosuppressant drugs to try for another baby or having the womb removed six months postpartum.
"As we have seen from the tremendously successful womb transplant program being carried out by our colleagues in Sweden, this operation is clearly a viable option for those women who otherwise have absolutely no chance of carrying their own baby," Dr. Smith told Medical News Today.
There is a bit of a hitch in the project, however: funding. Before they can move forward, they must raise $760,000 to cover the cost of the study. So far, they have only raised about $60,700. Still, despite the obstacles, Dr. Smith is optimistic that they will be able to move forward and complete the study.
"I've always been an enormous optimist," Dr. Smith said. "The project has run with no money from the start. Somehow or other, somebody has always turned up and given us enough money to keep it going."
Should they stay on track and have the kind of success Dr. Smith is hoping for, the first UK baby born from a transplanted womb could arrive by late 2017.
Related Articles:
---
[ad]