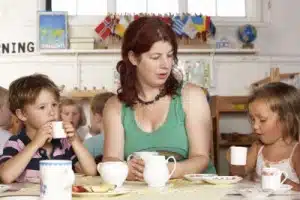 In some nurseries in the UK parents are paying for top class care, while their children are getting sub-par foods. Now some parents are demanding healthy meals for their growing children rather than the typical, processed fare.
The Department for Children, Schools and Families admitted that there is a problem with the meals being fed at many of the nurseries for young children. The current plan is to review the food standards being used and report in September on possible changes. For some, there are hopes that a stricter set of compulsory standards will be put in place.
The Better Nursery Food Now campaign, set up by the Soil Association, is taking this step as a small victory. In 2008 the group released a report that showed some nurseries were spending as little as 25p each day to feed the children in their care. Much of the offered foods were processed sausages and sugary cakes, foods banned primary and secondary schools because of their poor nutritional values.
Many parents have been shocked to find what their children are being fed. Lucy Gregory, a 33 year old mother, found that her two-year-old was being offered sugary cereals and chips instead of healthy foods for meals. Another mother, Rachael Barkham, discovered that her sons were being given baked beans and sausages each day for their lunch.
"I decided to look for a new nursery, but I worried that taking my sons somewhere new would be unsettling," says Barkham. "Nursery school owners play on the fact that it is an emotional time in a parent's life — you're constantly thinking 'Am I doing the right thing?'."
Diet is very important for toddlers and young children who are growing rapidly. Not only do they need a balanced diet to help them grow well, exposure to a variety of foods will also help them to build a better association with food as they age. – Summer, staff writer
Related Articles:
---