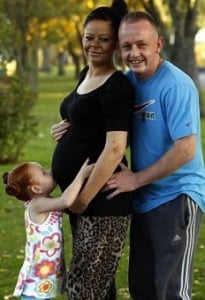 A couple from Newcastle, UK were surprised to discover they were pregnant and were quadruple-ly surprised by their ultrasound.
Adele Jelly and Gary Gorman, who each have one daughter (Mia and Laquita) from previous relationships, are expecting babies three, four, five, and six, to round out their family in March of next year.
The quadruplets, a set of identical twin boys, along with a fraternal brother and fraternal sister, were conceived naturally and quite unexpectedly at 700,000 to one odds.
Unaware of her pregnancy, Adele missed the customary 12 week scan and explains,
"So, my first one was at 17 weeks.  The pregnancy had so far been exactly like when I had Mia.  In the hospital, the midwife said to me, 'There's more than one in there.'"

"I said, 'Oh, can you see two, like?'"

The nurse responded, "No pet, there's four."

"I couldn't believe it," Adele recalls.  "I think I just looked at the screen and at her in shock."
Though the pregnancy is inherently high risk, the babies are growing well and appear to be healthy so far.
The couple are doing their best to adjust to the news.
"We've always wanted a lad," says Gary, "But I just assumed it would probably never happen – I didn't expect to be getting three in one go!"

"Don't get me wrong, I'm completely over the moon, I can't wait," Gary says, explaining, "I think Adele's the one finding it harder."
This pregnancy is unique, to be sure.  So unique in fact, "One of the nurses at the hospital kept a copy of the scan picture because she said in her 19-year career she had never seen such a clear scan picture of quads," Gary says.
The couple are both currently unemployed and have concerns about their suddenly expanding family, and the challenges that will be presented by four new additions.
"I don't really have a clue how we're going to manage," muses Gary, "But we'll get by.  We're going to need a bigger car and a bigger house and a bigger bank balance."
If all goes well, Adele will deliver the babies by C-section in March, four weeks preterm. – Jen R, Staff Writer
Related Articles:
---
[ad]