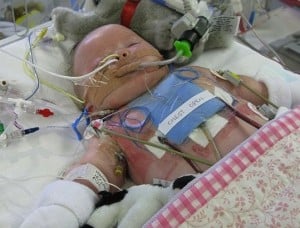 Born with a rare heart condition, doctors feared little Hannah Slater will not survive more than 48 hours. But then the doctors tried a pioneering operation on the preemie and saved her heart and her life using a cow's vein.
Charlotte and David Slater were thrilled when Charlotte became pregnant and found that she was expecting twins. But then a scan at 20 weeks revealed that one of the babies had a weak heart.
38 year old Charlotte said, 'They told us first that Hannah only had one kidney, and then that they didn't think her heart was quite right. It was devastating news to hear.'
The couple was referred to the Southampton General Hospital where more tests showed that Hannah was suffering from a condition called Truncus Arteriosus where a single blood vessel comes out of the right and left ventricles of the heart instead of two.
This meant that too much blood was flowing into the baby's lungs. The doctors warned that the baby might only survive for a few days after birth.
Charlotte said, "We were just devastated. We had been so excited when I fell pregnant with the twins, and now we were being told that Hannah probably wouldn't survive.'
The twins were born early at 28 weeks. While Lauren weighed 2lb7oz, Hannah weighed 2lb4oz and was immediately rushed to the intensive care. She nearly lost her life on the second day and that is when surgeons at the hospital proposed the idea of using a cow's jugular vein to heal her problem.
The operation had never been performed in the UK before on such a young baby.
It was also a very laborious and complicated procedure that needed to be carried out over two surgeries. The first was to tie the arteries of her heart with bands to stop the excess blood flow. They then had to wait for three months and replace the faulty blood vessel with a cow's jugular vein.
The first step was carried out when Hannah was still in her incubator as it was virtually impossible for the fragile baby to be moved to the operation theatre.
Doctors tied tiny bands on the vessels to stop the excess blood flow to the lungs.
Surgeon Marcus Haw, who carried out the operation said,'It was really a case of making it up as I went along.We had never done an operation like this on such a tiny baby, but it really was her only hope. We knew that we had to stop the blood flow to the lungs, which would then allow her to get a bit bigger before we attempted to correct the defect. So I fashioned some bands out of some wire tubing and managed to clip them around the arteries. It was very complicated as she was so tiny, but that was a success.'
Post surgery Hannah was in the hospital for the next three months as she grew a little stronger. The next step was then carried out in January.
The cow jugular vein was used to reconstruct the pulmonary artery, and allow the correct blood flow from her heart to her lungs.
Dr. Haw said,'The cow vein was used and we cut it down to make it a small enough size for Hannah. She is the smallest baby ever to have survived such an operation. But we had to attempt it, otherwise she was going to die.'
It was like a gamble, but thankfully Hannah made full recovery and survived.
Her father says, "Her survival really is remarkable. We had never heard of cow veins being used before, and to know that Hannah was the youngest baby ever to have such an operation really is remarkable. We knew that the surgeons hadn't carried out such a two stage operation like this before, but we knew that she would die without it. We just had to put our trust in the doctors and luckily she has survived."
Her mother Charlotte still can't believe that it was a cow's vein that helped heal Hannah.
"We can't thank the doctors enough for giving her a chance at life. It really is incredible to think that a cow's vein has been used to keep our daughter alive. We had never even heard of such a thing being used before. It was a shock, but its keeping her alive, and that's what matters.'
Despite the pioneering operation, the heart centre at Southampton is under threat of closure, which is distressing news for the Slaters.
Says, Charlotte, "It's terrible to think this unit may be closed, when it does wonderful work like this."
Now as Hannah grows older she would need two or three operations to replace the vein with a larger one. She is presently happily playing with her twin at home and recovering well.
Related Articles:
---