A 79-year-old retired UK man has earned the title 'Britain's oldest father' after he welcomed his seventh child with a woman 54 years his junior!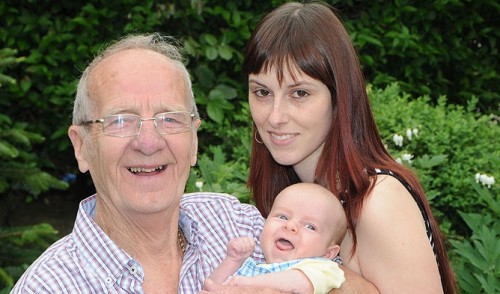 Raymond Calvert, who was 78 when the baby arrived 10 weeks ago, described the birth of his son Jamie Rai as a "gift from God".
He then continued saying,
"The baby was planned and I did not use Viagra or anything like that. I didn't actually think at my age that it would be possible to have a child, but he's a beautiful little fella.

"I feel blessed. I look at that baby and I think, 'He's so bloody healthy and good-looking – how did I make that?'"
The new dad has six other children who are all older than his partner and range in age from 38 to 51.
He raised them alone after his wife died 28 years ago and now has nine grandchildren.
In an unusual twist, he told the paper he first met his 25-year-old partner Charlotte following a three-year relationship with her mother. She was 16 at the time and joined him on caravan holidays with his children.
"The first time I saw Charlotte she was around 16. Obviously, nothing happened then, but she started coming on caravan holidays with me and my kids. We were all buddies and the two of us got on really well. But it wasn't until five years ago that romance kicked in. We realized we cared a great deal for each other."
Baby Jamie's arrival smashes the record set by the previous oldest dad Dennis Ealam, who was 76 when his wife Cora gave birth to daughter Jessie in Lincoln last December.
Related Articles:
Source: Google Hosted News