New guidelines for physical activity were released Monday by the UK's Chief Medical Officers stating that toddlers should be active for at least three hours a day. The new guidelines, titled "Start Active, Stay Active," outline new physical recommendations for all people and clarified their guidelines by separating the requirements into four different stages of life: younger years (under age 5), children and teenagers (from 5 to 19), adults (19 to 64), and the elderly (65 and older).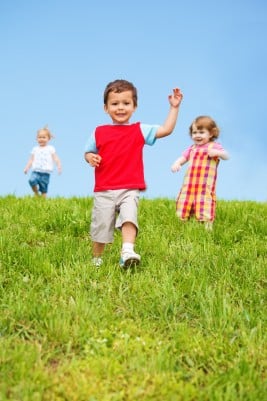 This is, reportedly, the first time that the UK has addressed physical activity for both young children and the elderly. The reason for this extended focus, according to the UK, is that sedentary behavior in all ages can have adverse effects on the body and that there is now evidence that lack of activity is independently linked to health problems.
According to the report,
"Regular physical activity can reduce the risk of many chronic conditions including coronary heart disease, stroke, type 2 diabetes, cancer, obesity, mental health problems, and musculoskeletal conditions. Even relatively small increases in physical activity are associated with some protection against chronic diseases and improved quality of life."
The above statement also explains why the report also mentions the importance of vigorous physical activity. Earlier messages that you were not required to be excessively athletic led some individuals to the thought that vigorous activity was not necessary. The UK document, however, states with a clearer message that there are clearly health benefits associated with vigorous activity and that "these new guidelines have a clear and consistent message on the importance of vigorous physical activity."
While the report is actually aimed at the NHS, gyms, local authorities, and other fitness programs and organizations, the Chief Medical Officers stated in the Forward of the report that they want this information to reach as many people as possible.
In a society where video games and television have become practically commonplace in homes, this report will hopefully continue to educate families about the importance of physical exercise. Hopefully, parents will realize that physical activity doesn't just affect the outcome of their children's health today but also in the future.
Related Articles: