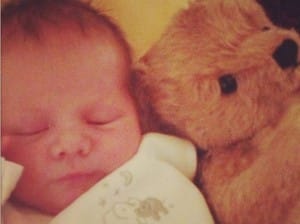 Michelle Booth was in the advance stages of her labour and to make these last few minutes even more special she and her husband decided to check in to a hotel close to the hospital. Little did they know that this hotel room that would turn into the maternity ward!
At 10:30 am first time parents Michelle, 39, and Richard Eades, 45, checked in at the Radisson Edwardian Grafton Tottenham Court Road hotel on March 19th after being told at the University College hospital's maternity unit that her labour was not advanced enough and could leave.
The couple decided to stay at the hotel hoping it would make the last few hours of delivery comfortable for Michelle. But in less than four hours, the expectant mom was delivering her baby boy right in the room.
Michelle gave birth to George Reggie Eades on just two paracetamol.
In a way of remembering where their son was born, the couple gave him the name 'Reg' after the Radisson Edwardian Grafton.
"They said I was in the early stages of labour, but it felt a lot further on. Basically, they said there was nowhere for us to go," said Michelle.
She adds that it was her husband who came across the hotel and decided to check in.
"It's really hard to check in at that time of day normally, apparently."

"But all the staff were brilliant – they upgraded us, which was really sweet. We were all laughing and joking with them about room service and saying 'we promise we won't have a baby'. But then we did."
The new parents have recently moved to Hackney from South End Green, Hampstead.
In order to feel less fearful of this first time birthing experience they decided to follow a "hypnobirthing" technique, recommended by UCH.
Michelle said, "I was thinking this natural childbirth malarky is a lot harder than I thought. The truth of it was, I was actually very close to giving birth. By 1.30 it was really full on. I was making a lot of noise. I was actually worried about getting thrown out of the hotel, so I was shouting into the duvet."
The shocking thing is when Richard tried to call the hospital again, the reply he received was "you're still not there, it is very early days".
By 2.30 pm Michelle could somehow feel that she might be giving birth in the hotel room.
She said, "I thought 'imagine if I'm giving birth' – that's the sort of thing you only hear about on TV. Then I put my hands down and felt a baby's head on the wrong side of my body. Richard came in and caught the baby. I know I had gone all hippy with the hypnotherapy but I didn't expect to have a completely natural birth."
She describes it as a bizzarre moment.
She said, "It was a bizarre moment. We looked at each other like 'did we just do that? Have we really had a baby in a hotel?' Then it was complete elation."
As soon as the baby was delivered, the couple called the reception. Six paramedics came up, cut the cord and took Michelle and the baby 100 yards across to the hospital.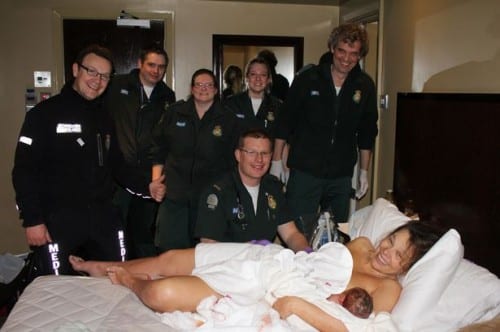 Richard wants to thank the paramedics as well as the hotel staff for their care.
He says,  "The paramedics were wonderful – one came on a bicycle then the others from two ambulances. Would you know any way we could contact them to say thanks? The team at the hotel were great too, I went back the next day with chocolates as thanks, the manager was very sweet and didn't charge any extra cleaning costs."
Michelle can't wait to tell her son about the adventurous way he was born.
"We thought we've had quite an exciting story – and quite romantic too – that we would want to tell George when he grows up. I'm very proud. We called him Reggie after the Radisson Edwardian Grafton."
The baby boy weighed eight pounds eight ounces and is healthy.
Pat O'Brien, UCLH Clinical Director, said,
"The Royal College of Obstetricians and Gynaecologists advises that any woman assessed to be in the very early stages of labour, and who is giving birth for the first time, is advised to go home until labour is more advanced, keeping in contact with the hospital by phone to advise on progress.

"This is perfectly normal and research shows that women do better in familiar surroundings where they can relax. We would like to take this opportunity to congratulate Michelle and her partner on the birth of their healthy baby boy."
The hotel will not likely forget these very special guests who stayed with them.
---
[ad]