For Gemma Tevendale giving birth to big babies seems to have become a norm. Like her previous two deliveries, her third baby too was above average weighing a whooping 12lbs and 12 oz at birth. But despite delivering one of the heaviest babies of UK, the mom had a normal delivery that lasted just 44 minutes.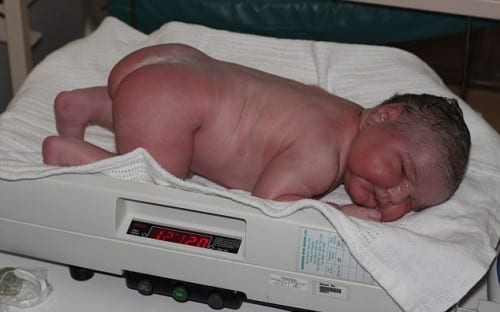 26 year old Gemma is from Swindon and already a mother to son Vincent, now six who weighed in at 10lb 10oz, and daughter Violet, four, who was 11lb 2oz at birth.
When she was expecting her third child Suzie, with her partner 25 year old James Gzowski, doctors told her that in this instance too she might have a large baby. But unlike most moms who need a caesarean for big babies, Gemma breezed through the pregnancy delivering Suzie normally. She only needed gas and air and did not need any stitches.
'It's like I just give birth to three-month-old babies,' she said. 'This time the labour was easier than with Vincent and Violet to be  honest, and the pushing stage was quite easy. When they put Suzie on me, I just thought, "She's beautiful!" It was an emotional moment and there were a few tears shed.'
In fact, it was not the new parents but the midwife at Swindon's Great Western Hospital, who was more surprised to see such a big baby.
"I think she was shocked,' said Gemma. 'They'd guessed at 10 to 11lb. When they saw her weight was 12lb 12oz I think they thought the scales had broken.'
Gemma who is 5 feet 4 inches tall recalls that she really did not feel the delivery to be difficult.
'When the contractions started it all happened quite quickly. At one stage the baby's shoulder got a bit stuck but that was only for a matter of seconds. I didn't really notice a lot of what was going on because James was cuddling me.'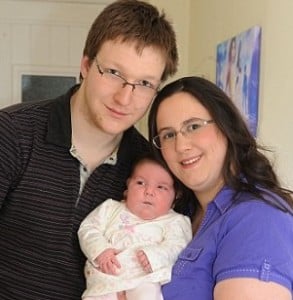 Baby Suzie is now three weeks old and already wearing clothes for three to six month olds. She is also 2 feet tall. Gemma says that Vincent and Violet were also above average weight babies but they are of an average height and weight now.
According to Danish researchers, women who eat more fish during pregnancy are likely to have heavier babies.
Gemma has four portions of fish a week which is double the recommended two portions a week for expectant moms but she says it might not be the reason for her big babies.
She said: 'I do like my fish, but I hadn't gone overboard with it, although I probably had more than I should have.'
Right now the mom is just content cuddling her big bundle of joy.
Related Articles:
---