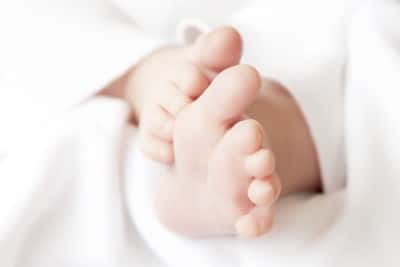 Diagnosed with cervical cancer, Katie Brown's dreams were shattered when the doctor suggested hysterectomy, taking away her chance of becoming a mother some day. But the young woman is today blessed with a baby boy and is cancer-free all thanks to a pioneering surgery.
29 year old Katie was all set to get married to her fiancé 28 year old Adam Hotby in 2010 when a routine pap test shattered their world. Katie was diagnosed with cervical cancer and doctors warned her that if she did not go for a hysterectomy, she could die.
For the couple the news was devastating as they were looking forward to starting a family soon after marriage. Thankfully, for them the consulting doctor knew of a little known procedure, known as radical abdominal trachelectomy pioneered by a fellow doctor.
The operation, devised by doctors at Hammersmith Hospital and the Lister Hospital, both in London, involved the removal of the muscle that holds the baby in the womb along with the upper part of the vagina.
The womb and the upper opening of the cervix, where it joins on to the womb, are left behind and rejoined to the vagina. A stitch is then inserted on to the upper opening of the cervix to hold a baby in place in the womb until it is ready to be delivered.
"The doctors explained that I could have a hysterectomy or radiotherapy but I knew both would rob me of my fertility,' said Kati. "This new operation seemed like a much better option. The consultant told me only a handful of women in the UK had had the surgery but it had a good success rate."
Katie's operation was performed at Castle Hill Hospital, Cottingham, East Yorkshire, in November 2010 and was a success. The doctors had feared that if the cancer had spread they would still have to perform the hysterectomy, but this was not the case.
Katie and Adam put their marriage plans on hold and immediately started planning for the baby. In six months Katie was pregnant. The pregnancy progressed without any issues and in February at 38 weeks, baby Ethan was born by C-section.
'When I was diagnosed with cancer I'd thought I'd lost my chance to have children, but having Ethan was made possible thanks to this amazing surgery,' added Katie who is in remission from her cancer. 'I just want other women to know that having a hysterectomy is not the only option if you have cancer, I'm proof that fertility can be preserved and miracles do happen.'
Ethan weighed a healthy  7lb and 11 oz.
A dental hygienist by profession Katie says,  'Holding Ethan in my arms for the first time was the most amazing feeling ever, it was the best day of my life. It was very, very emotional. I was in tears, Adam was crying, even some of the doctors and nurses were blubbing, it was very special."

"To be told I had cancer and that I may never be a mother was heartbreaking, but then to be given this chance and to manage to get through the pregnancy and birth with a healthy little boy – we are just over the moon."
She adds,
'People say Ethan is a happy little boy, but we are just so pleased to have him. We look at him every day and can't quite believe he's here. He's our little miracle.'
SOURCE
Image credit: mschalke / 123RF Stock Photo
---