UPDATE:  We are sad to report that Sue and Noel have lost their baby.  In a statement that was released this morning the couple explained that a heartbeat couldn't be found during the 12 week ultrasound.
'It's with such sadness that we have to say our beautiful baby's heartbeat stopped two days ago, we are utterly devastated beyond words,' they said in a statement today.
ORIGINAL POST:They may be Britain's biggest family, but they've still got room for more! In fact, Bakery owners Sue and Noel Radford recently announced the expectancy of their newest baby on Facebook, saying they are 'absolutely thrilled' to be having another baby, baby number 17!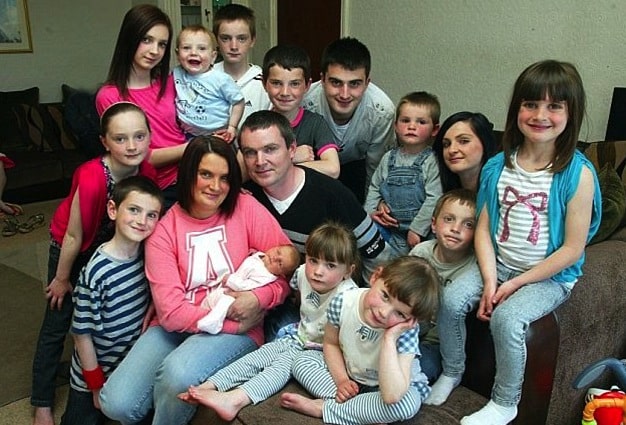 It was just 11 months ago that we shared the joyous welcoming of baby Casper, their 16th child. But these nearly back to back pregnancies are nothing new for Sue; she's delivered, on average, a baby every 17 months over the last 23 years.
It all started with Chris (24), the Radford's eldest child, whom they learned they were pregnant with when Sue was just 14. She and Noel decided at the time that they were determined to keep their baby because they had both been given up for adoption as children. Four years later, they were married, and second child, Sophie (19), came soon after.
After Sophie came Chloe (18), Jack (16), Daniel (14), Luke (12), Millie (12), Katie (10), James (9), Ellie (8), Aimee (7), Josh (5), Max (4), Tilly (3), Oscar (2), and, of course, little Casper (11 months).
Right after Casper's birth, who was born in just 16 minutes at 8lbs, 8oz, the hard-working, bakery-owning, minibus-driving family shared that they were already excited about the idea of adding another baby to their almost dozen and a half children.
"I know people stare," Sue had told Daily Mail back in November of last year. "Some think they won't get the attention they need, but people don't realize how dedicated we are…And maybe we'll be lucky enough to have more."
And they're getting exactly what they asked for!
Oh, and if you're wondering whether or not the family can handle yet another baby, rest assured that a family friend says they can!
"They are a lovely family and the children are so well behaved. They are obviously great parents," the friend told Daily Mail UK.
Though they don't know what gender the baby will be, they sounded amazingly excited when announcing the baby on Facebook after their 12 week ultrasound.
"We are so excited to announce Radford baby 17 will be joining this family in April," Sue had written on Facebook, according to Daily Mail UK. "As you can imagine, the children are so excited. Little Tilly said to me: 'Mummy, you have a baby in your tummy.' It was so sweet."
But pregnancy is proving to be a bit of a trial for the mom of soon to be 17.
"I feel so sick," she wrote. "Whoever named it morning sickness was lying. Try morning, noon and night sickness."
We hope Sue gets through her bout of morning sickness soon and wish the family a safe and joyous arrival of baby 17!
Related Articles:
---