Almost every day we hear about women who give birth after months of not knowing they were pregnant.  Today the BBC is reporting doctors were given quite the surprise when they performed a routine exam on a 92-year-old Chilean woman and found a calcified fetus that had  been in her abdomen for about 50 years!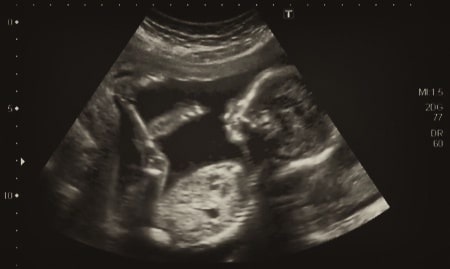 After taking a fall recently, doctors were shocked when a hip X-ray on the 92-year-old patient revealed a 4.4-pound fetus in her uterus.
Hospital director Margo Vargas Lazo told the BBC that the calcified fetus was "large and developed and occupied all of her abdominal cavity. "  It is estimated that it had probably been there at least 50 years and was about 7 months gestation.
Doctors are unlikely to remove the fetus because of the woman's age and the woman wasn't experiencing any pain because of it.   The condition is called "lithopedion," and happens when a fetus dies and calcifies outside of the womb.
While this case is "extraordinarily rare," a couple of years ago doctors found a 38-year-old calcified fetus in the abdomen of a 60-year-old woman  in India.
---
[ad]