Festival family affair! Uma Thurman was photographed on Friday arriving in Venice, Italy with her kids Maya, Levon and Luna at the film festival.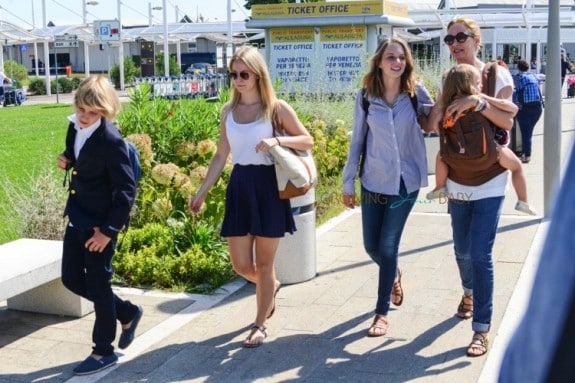 Uma carried Luna in an ERGO Baby 'Every Mother Counts' baby carrier(no longer available) while Levon and Maya walked ahead. Shortly after the actress and her kids were spotted enjoying a taxi ride through the canals on their way to their hotel.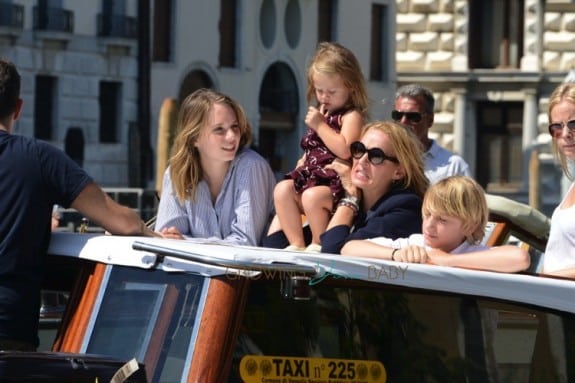 The family is in Italy to support Ethan Hawke, Uma's ex and the father to her two oldest kids.  His movie Good Kill is up for a the Gold Lion – the festival's biggest award. Not often seen out, the actress recently acknowledged that it was a part of her job to be photographed.
"I think media is part of the career of an actor," Uma told VS Magazine. "There is no career for an actor who is in some way not in the media, unless they are unsuccessful."
Family has been her priority lately, but she is ready to get back to work.
"I've kind of been on a hiatus for a while, and I just started getting back to work right now," the mom of three said. "I had a baby and I also wanted to take a step back, and so I did. I think it's important to have this time to take a step back, analyze things and just breathe."
She is currently filming an untitled John Wells Project alongside Bradly Cooper.
{AKMGSI}
---
[ad]