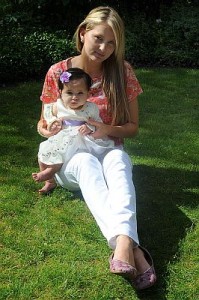 As Nicola Ellington enjoyed the first pangs of motherhood she was unaware of the killer tumor that had been triggered inside her. In a world first operation, doctors were forced to carry out life-and-death surgery on the 26-year-old at University Hospital Coventry, West Mids.
The mom-to-be had a tumor the size of her lungs near the chest, which had been inside her body right from birth but when she became pregnant with her daughter Layla Sky the tumor too started growing at the same rate as the fetus. Doctors believe that the hormones produced during pregnancy can trigger the growth of these types of rare tumors.
For Nicola the battle with her tumor began right from the beginning of her pregnancy but it wasn't until she was 13 weeks along that it was finally detected. Before that, her GP and two other hospitals believed it to be a pain associated with pregnancy and just prescribed her morphine. Finally it was consulting cardiologist Dr. Dawn Adamson at University hospital Coventry who found the tumor inside her body and understood the seriousness of the condition that could lead to death of the mother and the unborn child.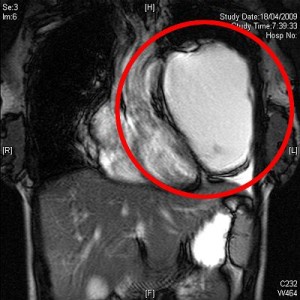 "These tumors are made up of embryonic cells formed in the womb which should form parts of a developing baby, but instead they lay dormant and later develop into a tumor. It was incredibly lucky that Nicola was referred to us where we are NHS and world leaders in detecting and treating heart problems during pregnancy." Dr. Adamson told the Telegraph
Worries about the effects of the morphine she had been prescribed on Layla's development prompted doctors to recommend immediate surgery.
Says Nicola, "The pain was indescribable and it started not long after I became pregnant, it felt like my chest was being crushed. I couldn't believe it when they told me what kind of tumor it was and that it had teeth and hair, it was like a monster growing inside me. The pain was so bad I could barely breathe and it felt like someone was pushing down on my chest. I was so worried about Layla Sky but doctors just kept telling me it was normal and sending me away with painkillers."
At this point timing was crucial. Doctors had to wait before they could operate because Layla's development was still at a crucial stage with her brain and limbs forming. But as the tumour increased in size the oxygen reaching the womb was being cut off.
The surgery lasted for two hours last summer and afterwards Nicola remained on bed rest at hospital until Layla Sky was born weighing 7lbs 6ozs in December.
"I have to thank the amazing doctors and surgeons at Coventry for the outstanding care and for saving not only my life but that of my unborn baby."
– Atula, Staff Writer
Related Articles:
---
[ad]