The University of Maryland Medical Center has adopted a new technology that will help diagnose up to 10 viruses that lead to illness and hospitalization of thousands of kids in the United States each year. The machine called the Luminex Respiratory Viral Panel uses a nose swab to detect infections in hours where traditionally it took weeks.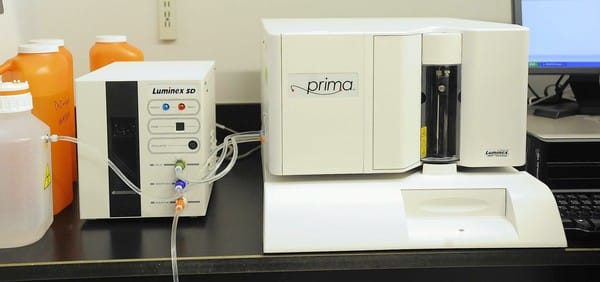 The purchase was funded by New Jersey-based R Baby Foundation, a non-profit run by Henry L. Belsky, a Baltimore attorney, and his wife, Brenda in memory of their granddaughter Rebecca Rabinowitz. Rebecca died of a viral infection 9 years ago when doctors misinterpreted her infection as common cold.
The couple helped raised the $135000 needed for the machine and also thousands for the research.
"The technology wasn't available for Rebecca," Henry Belsky said. "But other kids can get a diagnosis and be treated and kept alive long enough to recover."
Currently the tests that are done in most hospitals to detect viral infections take between 10 to 15 days to provide results. The tests are less sensitive and less reliable as they are done manually, growing individual cultures and waiting for it to develop. By this time many children may become critically ill.
The new technology on the other hand, offers to test for many infections like the common cold, influenza, bronchitis, pneumonia etc. and offers results within 24 hours – saving precious time. The technology is not new as it has been used by some university hospitals, research scientists and public health labs to detect virus, but it has not been used in community hospitals.
The Belsky's hope that the technology can now be expanded to general use although the doctors of the University of Maryland know that it is not an easy task to accomplish.
There is certain kind of expertise needed to run the tests with the new machine. The doctors need extensive training to give appropriate results and those who do not know can easily contaminate specimens or give false results.
Also according to Dr. Steven J. Czinn, of University of Maryland School of Medicine,
"Transporting the patient specimens quickly to the lab could be logistically difficult and costly. Swift results could be crucial, however, because some antiviral medication is effective only when administered within 48 hours of the first symptoms."
He also says that the machine will not be used for all cases but only kids in 'gray areas' whose infection type is not clearly detected.
"We don't want the lab to get 300 samples an hour," Czinn said. "We don't want all children tested. But we want it to be available. We'll have to educate practitioners in the emergency rooms around the state."
The process will start with a nose swab says Dr. J. Kristie Johnson of the medical school's department of pathology.
"Under the current method, we look at cells to see if they are infected with virus under a microscope, but it can take days for the cells to be damaged by viruses — 48 hours to 14 days," Johnson said. "This one reaction is a lot quicker. We can run it every day or even more often if we have samples."
Naomi Barker a developmental laboratory scientist at the state Department of Health and Mental Hygiene says that at state labs the tests are done more for surveillance rather than diagnosis and it cannot be used generally because of the time and the cost factors. Each tests costs under $ 100 to $200 per specimen. Last flu season the technology was used but only as a surveillance program.
"We wanted to know what was circulating in the community; we weren't trying to treat people," Barker said. "[University of Maryland] won't be able to test everyone either; they will need to choose their criteria carefully. … There is potential for good public health impacts. We're hopeful for them."
Other medics also are hopeful that the test can become more common. At the John Hopkins hospital the multivirus test is used only for severe respiratory diseases with impaired immune systems.
Says Dr.Valsamakis of Hopkins  "We spent months refining this. If [Maryland] can figure out how to make it work operationally regionwide or statewide, it would be great. They won't be able to throw the switch for all pediatric patients, but if they manage to get that gray zone or those critically ill, and they can do quickly, it'll be a great clinical service."
At Maryland the goal now is to run the machine once a day and increase the frequency in colder months. The hospital hopes to collect insurance reimbursements for the test and the priority is not to earn but provide a safety net for those who cannot pay for care.
"If we save one life," said Brenda Belsky, "it'll be worth it."
– Atula, Staff Writer
Related Articles:
---