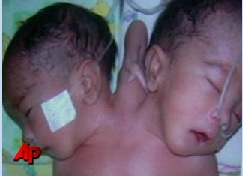 Sad news… The set of conjoined twins with two heads, but just a single body have died in Indonesia five days after their birth.
Doctors said the boys died within minutes of each other.
The twins had their own hearts, but shared all of their other vital organs, making it medically impossible to separate them.The rare birth had drawn crowds of curious Indonesians to the hospital.
The boys were delivered in the Riau province via Caesarean section Thursday, CNN reported. They were taken to another hospital, where they were in critical condition over the weekend.
Their combined weight was just 7 pounds at birth.
A medical team working on the twins had said their circulation and lungs were in bad shape, and the hospital director said it was medically impossible to separate them.
Related Articles:
SOURCE
*PHOTO IS A SCREEN CAP TAKEN JUST AFTER THE BABIES WERE BORN*
---
[ad]