The day Brianna Morrison gave birth to her six babies at 22 weeks gestation I was worried. I knew that the chances of just one baby surviving were slim let alone 6. Week after week I reported on the babies as they passed away with sadness wondering if this poor couple, who had been through SO much, was going to get to bring home at least one child.
I found an update on this little fighter online tonight and thought I would share it with all of you seeing I still get quite a few people e-mailing and asking for additional information.
Sylas Christopher is the only surviving baby. He is reported to be doing well. A friend of the Morrison family recently got the chance to visit with Brianna at the hospital and capture some nice bonding moments between her and Sylas.
He appears to still need assistance breathing and feeding, but he looks healthy and happy.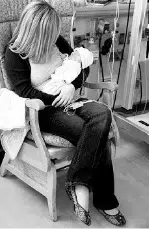 We are so happy to hear that things are going well for the Morrisons. They have been through so much in the last few months. It is nice to see that Sylas is doing well and that after all of the sadness they have experienced, they will get to bring a baby home.
Related Articles:
BOTH PHOTOS PROPERTY OF NOEMIPHOTOGRAPHY.COM