One of the coolest accessories being introduced this year is the UPPAbaby RumbleSeat.In just 10 seconds, with "no tools", the RumbleSeat turns UPPAbaby's 2009 VISTA stroller into a double stroller that will accommodate 2 kids or 3 if you add the piggyBACK.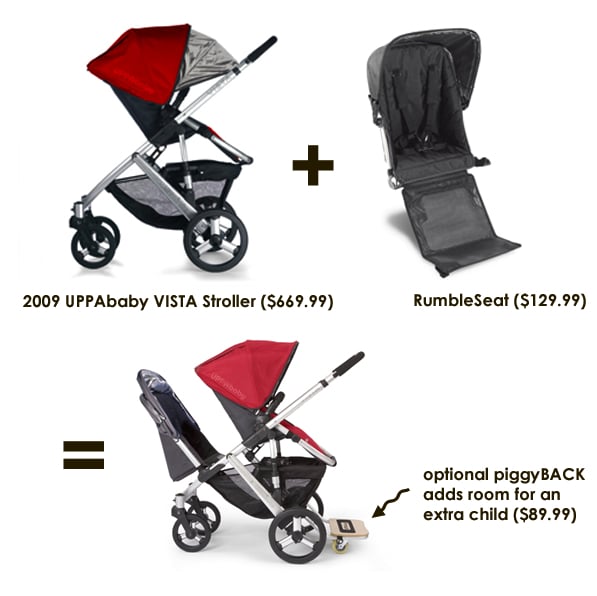 Parents will love that there are 3 possible stroller configurations:
Infant in car seat & toddler in RumbleSeat
Infant in reclined stroller seat & toddler in RumbleSeat
Toddler to 50 lbs. in stroller seat & toddler in RumbleSeat
Safety features include:
Wheels are out of reach – no fender kits required
5 point harness with 3 point height adjustment
No "flip" when primary child gets out
If you have a 2006, 2007, or 2008 VISTA model and would like to use the RumbleSeat UPPAbaby has Retro-Fit Frame Program with 4 options:
Option 1: $250

– Purchase a new 2009 VISTA frame

Option 2: $85

-Upgrade your 2006, 2007, or 2008 VISTA stroller frame.They will send you a box to ship them your frame, as well as a pre-paid fed-ex label. The turn-around time to receive your stroller back is approximately 1 week from when they receive your stroller frame. This cost of $85 includes shipping.

Option 3: $60

– You may ship UPPAbaby your stroller frame using your own packaging and shipping methods and they will ship your upgraded frame back.

Option 4: $40

– You may bring your frame to UPPAbaby's headquarters in Rockland, Massachusetts. You must be able to drop off/pick up your frame. There will be no shipping included in this price.
---