The globeandmail.com has a story today on the growing amount of Upscale hotels who are now catering to children. There are a couple of hotels in the article that stick out to me. The first being the Le Germain Hotel in Toronto which offers a crib, highchair, baby monitor, baby bath, diaper disposal unit and baby soap in the washroom. In the closet were child sized hangers and baby plates, bowls, cutlery in the bedroom.
This is very convenient for parents with children and very smart on the part of the hotel. Busy parents always take the path of least resistance. In May we traveled to Arizona and I had pre- ordered, from a local company, an exersaucer and swing. The room came with a microwave and a pack and play playpen. It would have been a tremendous stress reliever to know that most of the stuff we needed was already there.
Arrangements for children to be picked up in limos with bodyguards are common. Could you imagine? The Baby Hotel in Johannesburg looks after children up to three years old, and functions as a daycare with overnight accommodation and on-site medical staff. Kinderinsel, (pictured) Berlin's first international children's hotel, is a 24/7 daycare center not just geared to residents, but also to tourists visiting the city with children in tow.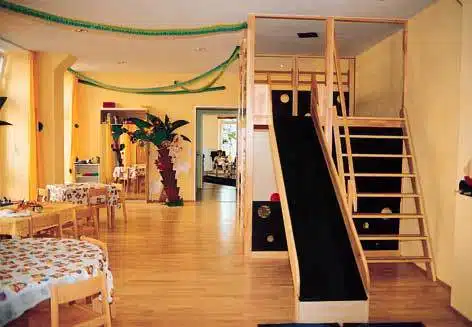 The Pacific Palisades Hotel, Vancouver offers several beauty treatments available for children: The Little Princess Pedi includes a tiara, strawberry foot soak and hydrating massage. Cribs, babysitting, child-conscious menus and family movies are also all available.
One Aldwych, London prides itself on pampering children as much as the older guests. Every child receives a specially chosen, age-appropriate book at bedtime, child-sized bathrobes and slippers and free milk and cookies. There's also an impressive menu of healthy versions of kids' favorite foods.
All of the big chains, Ritz-Carlton, Four Seasons, Hilton, and Westin have programs and specialties for all ages. Most have movies, special menus, children's pool areas and fun named kids clubs. Each chain has something that gives them that small edge over one another like Ritz-Carlton (pictured) in Cayman offers snorkeling. Loews Family Concierge will contact you before your arrival with a list of local activities your family might enjoy.
The Westin chain offers a crib version of the Heavenly Bed plus complimentary amenities like bottle warmers, strollers and juice.
Before you book your next vacation check out the amenities at each hotel and make sure you don't have to pay extra for perks that are included down the street.
---