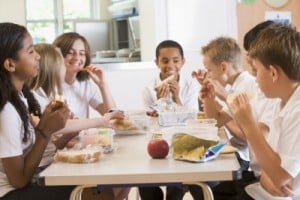 Times are a-changing for schools all across the country. First, it was the new school lunch standards in January of last year. Now a new rule is in the making; that rule will change the snack foods and beverages sold inside of schools.
"Parents and teachers work hard to instill healthy eating habits in our kids, and these efforts should be supported when kids walk through the schoolhouse door," Agriculture Secretary Tom Vilsack told Medical News Today. "Good nutrition lays the groundwork for good health and academic success. Providing healthy options throughout school cafeterias, vending machines, and snack bars will complement the gains made with the new, healthy standards for school breakfast and lunch so the healthy choice is the easy choice for our kids."
The proposed rule, otherwise known as "Smart Snacks in School," is a part of the 2010 Healthy, Hunger Free Kids Act. That act says that the USDA should establish nutritional standards for all food products sold in U.S. schools; including foods that go beyond the federally-supported school meal program. According to the current legislation, this new rule is an important component of First Lady Michelle Obama's "Let's Move!" campaign – a campaign designed to combat childhood obesity.
Based on recommendations from the Institute of Medicine, standards already in place in thousands of school across the country, and healthy foods and beverages that are already available in the marketplace, the proposal is expected to publish sometime next week. The following are highlights of that proposal:
Healthy snack foods that have protein foods, low-fat dairy products, whole grains, fruits, or vegetables as their main ingredients should be encouraged in schools.
Portion sizes and caffeine content of beverages sold will take age groups into consideration.
Snack food items should be lower in fat, sugar and sodium. They should also include more of the nutrients that kids need. Essentially, foods that we should avoid as a collective society should be reduced in schools.
Food limitations should affect only foods that are sold on school grounds during the school day; extra-curricular events (sports matches, etc.) will not be subject to the new rules.
Traditions like cupcakes at school for birthdays, treats for holiday parties and school lunch snacks should still be allowed within schools. Additionally, bake sales and fundraisers should still be permitted to operate as usual.
State and local communities should be provided with flexibility, allowing for "significant autonomy." This will enable schools to establish minimum requirements and it will ensure that states and schools with stronger standards are not affected.
Schools and industry will be given ample time to make the transition – a full 12 months after the rules are officially published.
While many schools, districts and authorities already have policies and practices in place that either meet or exceed these standards, the USDA hopes that the new goals will set up a national baseline of standards. In turn, they hope that the general health and nutrition of children will improve on a national level.
"These proposed standards are part of a bi-partisan package of changes passed by Congress in 2010 designed to ensure that students have healthy options in school," the USDA wrote in an online comminque. "Other parts of that package include updated nutrition standards for federally subsidized school meals that provide children with more fruits, vegetables, and whole grains' additional funding for schools to support improved meals; and guidance on stronger local wellness policies."
Once the new rules are published, the public will be able to make comments and provide feedback for 60 days; the USDA says they encourage the public to take the time to participate in the discussion.
Related Articles:
---
[ad]