Building a fort for your kids is a rite of passage as a parent.  Looking to keep their kids entertained, Jeremy and Dee Trentelman built a cardboard castle on their front lawn for their little ones, who are 2 and 3 years old.  Their kids love it, the neighbor's kids love it, but according to Ogden City the castle is violating city code, which prohibits people from putting junk in their yards.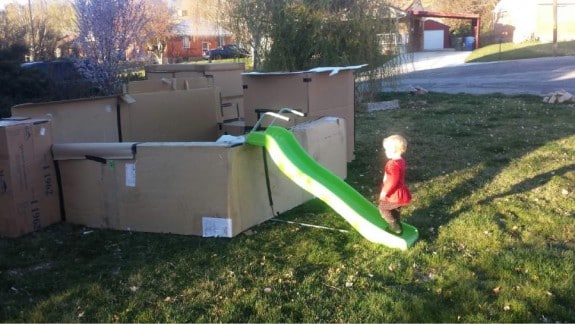 They have given the family 15 days to take the castle down, or they will face a $125 penalty.
"They can also file criminal charges against us and levy the fines as a lien against the house," Jeremy told KUTV.com. "So they're not playing."
Ogden's city code prohibits residents from leaving "junk or salvage material" on their lawn, as it poses a fire or safety hazard.
The Trentelmans received the take down notice the day after the castle was constructed. It is not known if someone complained or if the code enforcement officer happened to spot the fort while driving by. 
Originally the couple had planned to only keep it up for a couple days, but now – out of spite – they will keeping it on their lawn for longer.
"They gave us 15 days in the notification so I'll be damned, it's gonna stay up for 14 days," Jeremy told KUTV.com.
"It was a great project for all of us to build, and now it's just [fun] watching them play in it, and watching their imagination run wild is just fantastic," he added.
The family has the support of the community.   A Facebook event is calling on others in the city to build cardboard forts in their yards, too, to stand in solidarity with the Trentelmans.
The page has received the support of 2,100 people so it will be interesting to see if more castles pop up around the city of Ogden.
For now, we hope the kids on the Trentelman's street enjoy their fort while it lasts!
---
[ad]