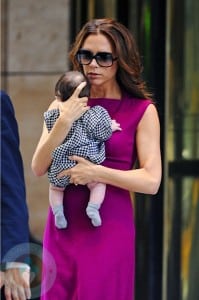 Dropping weight after pregnancy is a challenge for many women…so how do celebrities like Victoria Beckham step out slim and trim just mere weeks after birth? Lots of hard work.
After revealing her very slim and trim figure at New York Fashion Week, just eight weeks after giving birth to baby Harper, many fans wondered, "How'd she do it?"
"I worked out a lot. I ran a lot. I did it six days a week," Victoria revealed. "I become quite obsessive when I get into something."
Victoria also says she followed a strenuous exercise routine developed by celebrity trainer Tracy Anderson. Anderson's celebrity clientele also includes the likes of Cheryl Cole, Gwyneth Paltrow and Madonna.
But New York Fashion Week was just a taste of what fans would see in the weeks to come; Victoria's figure transformed even more in the coming weeks. The mother of four had to wait six weeks post-baby before she could start working out. She also suffered from a slipped disc just a few weeks after birth, which undoubtedly made working out a little more difficult.
By September, the fashion designer was back to her ultra-slim self, ready to flaunt at the upcoming Big Apple fashion conference in November.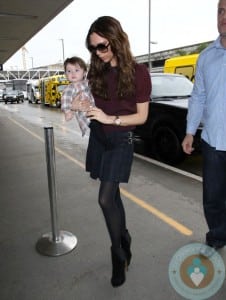 Victoria also says that clothes make a big difference too. Her clothing designs help elongate her frame with the help of figure-hugging materials and flattering cuts.
"I've never been a six-foot-tall, skinny model, so therefore I wanted to create an illusion. People think I'm taller than I am – not because of the shoes I wear but because of the way I dress. It's all relatively streamlined.
The slimming nature of her clothing line just might explain why Beyonce chose to step out last week, looking beautiful in a Beckham designed dress.
Exercise, four kids, wife and fashion designer? That's a lot on one woman's plate….
"I'll work early in the morning and then I'll work late at night," Victoria said. "But once England and New York go to bed, I have a little bit of time here. David and I make sure our schedules revolve around the kids. Because we are really focused on what we do workwise, it allows us to be balanced."
But it's not that often that you see the entire Beckham family together. Quite understandable, really, when you consider their busy schedule. They did, however, manage to lunch together in Santa Monica last weekend. And Victoria reveals that, no matter how hectic their schedule gets, they all climb in bed together at the end of the day.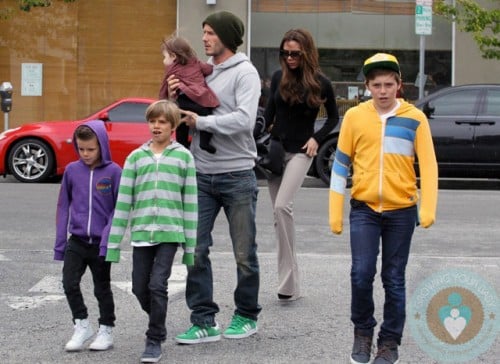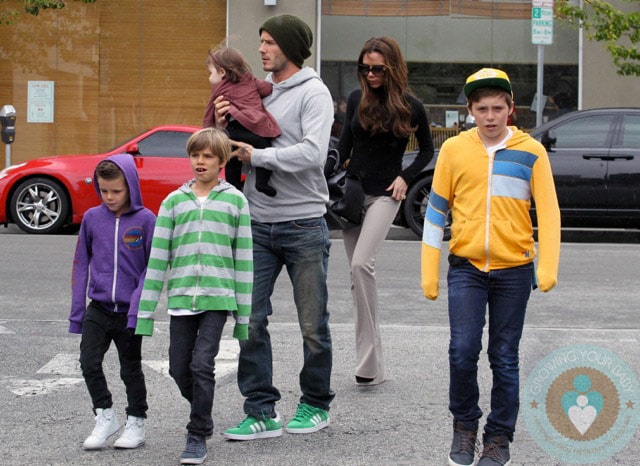 "The cuddle up like little peas in a pod," she said.
And, amongst it all, Victoria still finds time to cook for her brood. Well, actually, it was her brood's school; Romeo and Cruz are having an International Food Day at school and Victoria opted to share some British foods. She tweeted a picture of the spread last night.
Featured in the shot were tasty treats like pork pies, sausage rolls and cheese and pineapple on sticks, all neatly arranged in three foil trays. Each of the treats were adorned with Union Jack flags on cocktail sticks and an adorable little dog, wearing a Union Jack cape along with some candies wrapped in flag paper.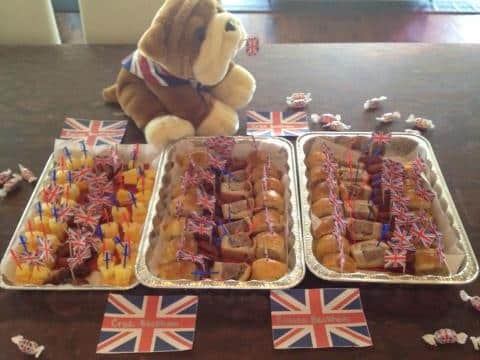 In the photo's caption, Victoria wrote: "Just finished cooking! Very proud to be British!! X vb."
---
[ad]