Usually, a bus driver has to navigate other passing vehicles on the road. But one Oregon driver got the shock of his life when he saw a toddler, bare feet walking on a busy road with no supervision. Without a moment of panic, the vigilant driver picked the wandering toddler and saved his life.
On May 23rd a toddler left home alone as his father slept and wandered barefoot through the busy roads along Bill Clark, the bus driver's route.
It was a morning commute for many when Bill pulled the brakes and bolted through the front door to check on a two year old he had just spotted.
"I just caught a glimpse of him, stopped the bus and got out to see if his parents were around," Clark, 62, said Thursday morning. "They weren't. So, I picked him up and took him to the (Central Gresham) transit center."
Known as "James" the boy was only wearing a t-shirt and a heavy soiled diaper.
Security footage showed that the boy willingly took Bill's hand and allowed him to carry him inside the bus. Bill then called the police.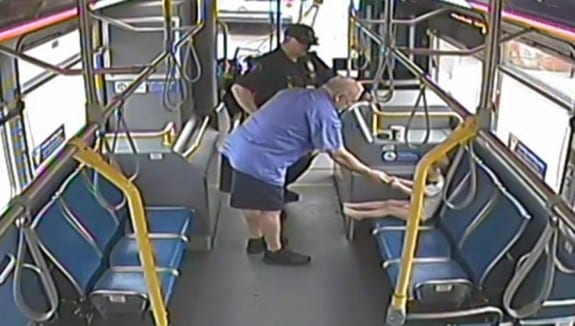 He was quiet, the driver said, until he offered him hot chocolate and cookies.
"He lit up," Clark told the TV station.
At home the toddler's father, who had worked a late shift, woke up to find his son missing. He called 911 at 10:30am Gresham police revealed. It is believed that the boy wandered off when his mother left for work after opening the lock on their apartment himself.
According to new reports, the Department of Human Services has asked the couple to install child-proof locks to prevent another great escape.
---
[ad]