I have to admit that until recently I hadn't heard of WagJag. My sister uses it all the time. In fact just a couple weeks ago she treated my parents to a wine tour in Niagara on a 2 for 1 that she bought from the daily deal site.
With the holidays right around the corner I thought I would check out the site to see if they have anything that would make a great gift idea for someone on my list.
If you are not familiar with what WagJag is, it is a website that offers services or products in your city for a reduced rate – most times more than 50% off. When you visit the site it will automatically detect your location and show you the deals in your city.
Right now they also have a tab titled 'holiday shoppe' that lists deals on everything from tea to snowboard lessons,bean bags to jewelry. The 'holiday shoppe' in our area is currently offering 67 deals.  Who doesn't love to save at Christmas?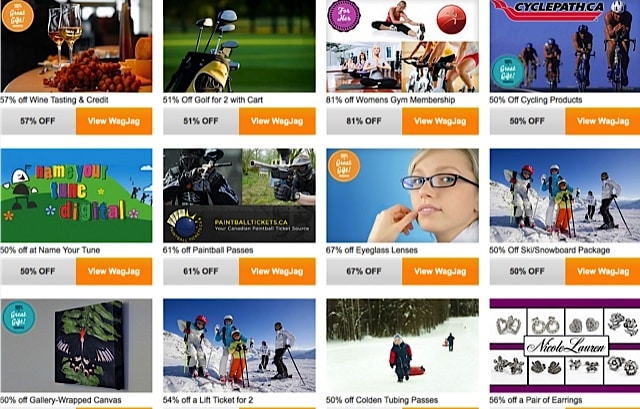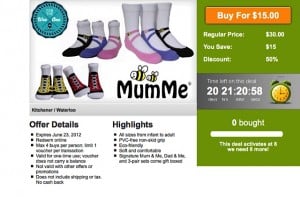 See something you would like? Just click on the product and read the details. The dedicated deal page lists important facts about the deal like when it expires, if there are any stipulations and how many need to be purchased in order for the deal to be activated. Some deals 'activate' after 5 people commit to purchase and others just need a couple. Because each WagJag is only offered for a limited time, I recommend you grab a deal when you see it.
Don't see anything that you need or want? Change the city to one near by and see what comes up. We live just 50 minutes west of Toronto so I checked what is being offered there and actually found a couple deals that could still work for us because they're online.
Visiting a different city for the weekend? Check WagJag for deals on restaurants or popular sights. Plus, jaunt.ca their sister site offers 'carefully created getaway adventures, mini-breaks and staycations.' Families who want to get away but don't want to go far may find a package in a neighboring city that works for them and normally included in the price are gift certificates to a restaurant in the area, free breakfast, upgrades or wifi.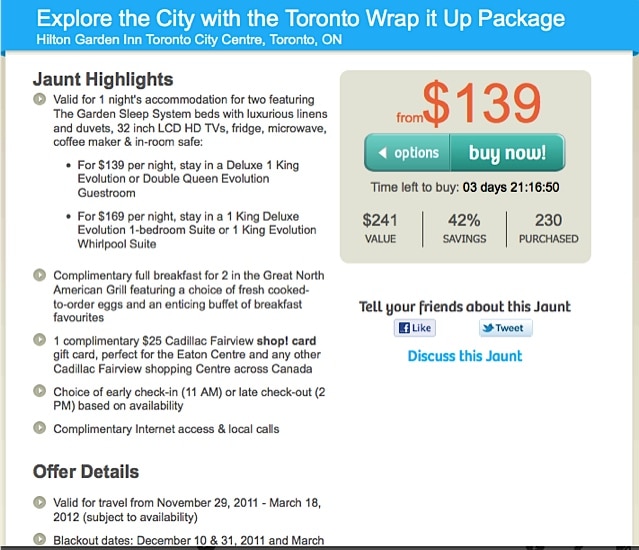 I hate paying full price for anything especially when you know that a deal can be had. Shopping WagJag is the perfect way to save and get what you want at the same time. Who doesn't love saving money? If you don't see something you will like today, come back in a couple days as the deals are always be replaced with new ones as they expire!
Related Articles:
I am participating in an influencer program with EverytingMom to support WagJag for the holidays. Although I have been compensated for my time to write this post, the opinions expressed are purely my own.
---
[ad]