Located on property at Walt Disney World, the Coronado Springs Resort is part of Disney's Moderate Resort collection.

Previously, we had stayed at two of Disney's Deluxe Resorts so I was interested to see the difference between the categories. This resort is also under construction so I was concerned it would be an issue.
One of the best things about staying on property is that Disney takes very good care of you from the minute you arrive at the airport. A couple weeks before we arrived I booked the Magic Express. The process of checking in is very quick and the wait to get on the bus to your resort is minimal. The ride from the airport did take about 45 minutes because we stopped at a couple resorts before we arrived at ours.
Check-In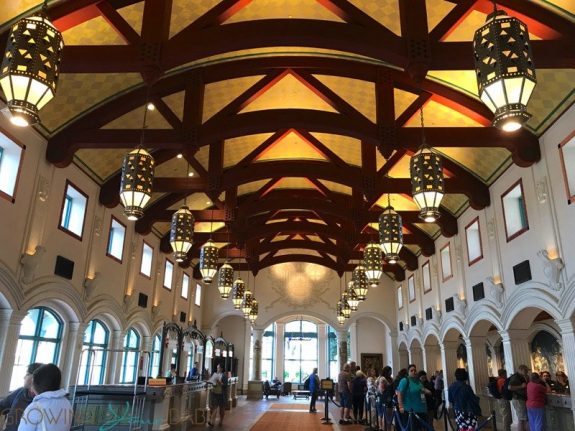 We arrived at the resort at around 2 pm and found many other travelers were on the same schedule as us. Thankfully there were quite a few cast members checking guests in so the line went fairly quickly. Like the other resorts we have stayed at in the past, Coronado has a TV playing some classic Disney cartoon where the kids can sit and relax while we waited.  It wasn't until the last day that I noticed the lighting at the back of the room was positioned as Mickey Mouse.  Always be on the lookout for hidden Mickeys!
Room
We were lucky to get a newly renovated room in the 8a area of the resort.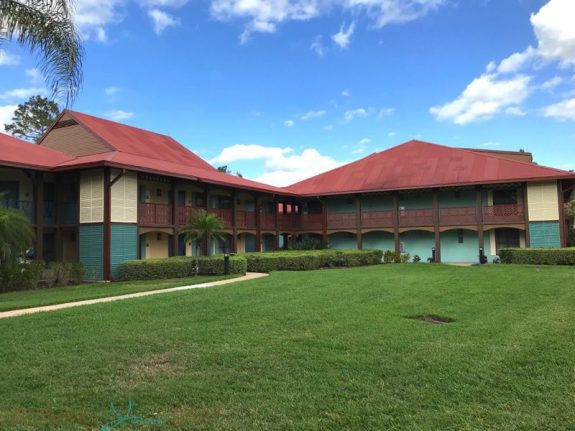 Designed with a modern, airy feel, our room came with 2 double beds, a large flatscreen TV, Keurig coffee maker and bar fridge which was perfect for storing snacks and beverages.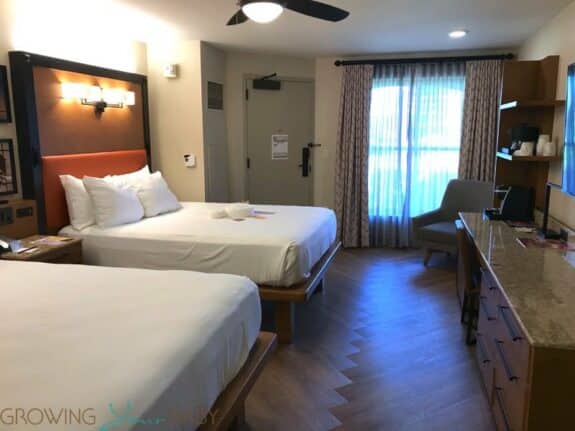 The bathroom has been freshly tiled and equipped with an enclosed bath and rain head.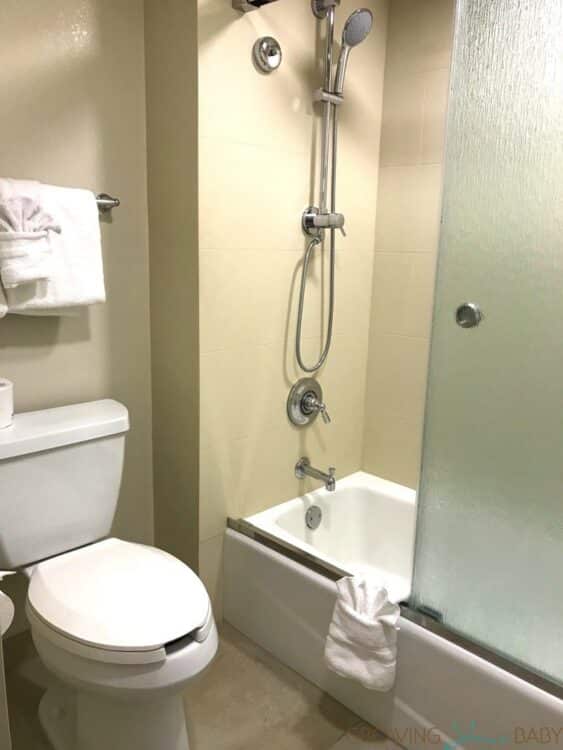 For a full tour of our Cabana room click here.
The Dig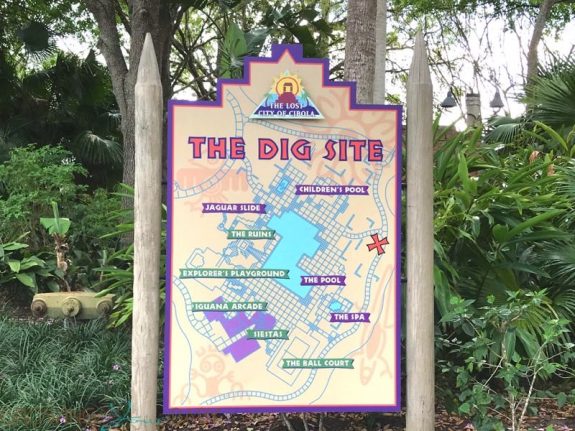 When my boys found out we'd be going to Disney their first question was – would there be a water slide.  The Dig, Coronado's pool area, checked that off  – along with a long list of other great options.
Our room was magically located right next to this area which was a huge plus.
Along with a massive pool that has been heated to a perfect 82 degrees, the Dig has the Jaguar waterslide, Explorer's playground, Iguana arcade and a volleyball court.
My kids are also fond of the hot tub and there was one of those as well.
The centerpiece of the Dig, however, is the 46 foot tall Mayan stepped pyramid.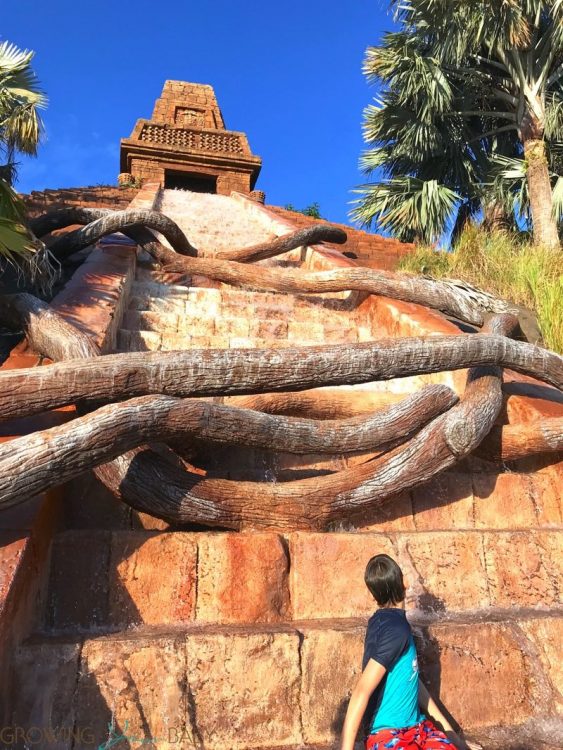 If your family gets hungry during your pool time there is a snack bar close by that sells cheeseburgers($10.99), nachos($10.49), empanadas($8.99), wings($11.99) and fish tacos($11.49).   For kids, there are chicken fingers, hotdog or turkey, and cheese sandwich($7.99).  All of the kid's meals come with fries.  It is open from 11 am to 8 pm.
The snack bar is also conveniently located next to the bar where yummy tropical drinks are being served.
Food
If your family is looking for more variety of foods the Pepper Market was popular for us.  There are different stations that each sell something different. One sells pizza and pasta; another burgers; and one Mexican food.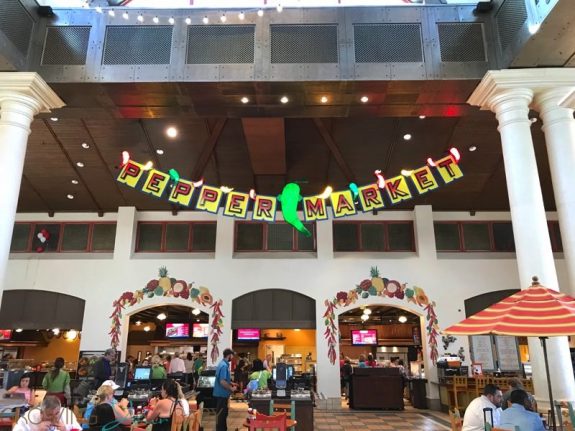 On our first day, my husband and oldest son got burgers while my youngest and I had nachos.  What a portion!  So filling and soooo darn good.  Plus, the drink is refillable 4 times in a 4hours(I think) time period.  Disney uses a bar code system on the bottom of the cup to keep track of how many refills you have used and tells you on the screen of the machine how many you have left.  Same goes for coffee cups.
At night after we returned back from the parks my husband would run down to the Pepper Market and grab pizza.  It was a great late night snack!
Closer to the lobby there is a bakery that sells a large variety of sweets and a couple more formal sit down restaurants across from the Pepper Market.
Adjacent to the lobby is Panchito's Gifts and Sundries.  This shop sells all of the things you may have forgotten; shampoo, toothbrush, toothpaste, suntan lotion, Tylenol, towels, pool toys along with lots and lots of cute souvenirs.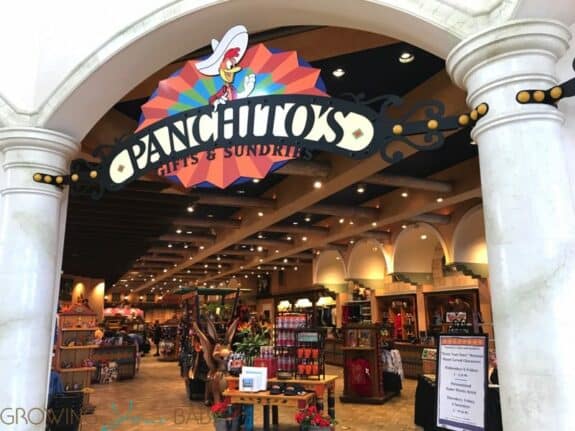 Is the Lobby far away from the rest of the resort?
One of the things I kept reading while researching this hotel was that the restaurants and lobby were too far from the rest of the resort.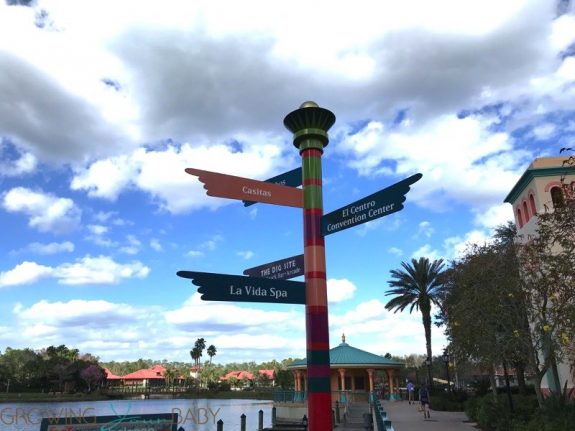 Before we left I studied the map and even asked the girl if our room was really far away when she assigned it out of concern we would be miles away from food and snack options.  To my delight, it wasn't far.  In fact, the property is so pretty I enjoyed the walk.  And I have to say it was much closer than when we stayed at Port Orleans last year and I didn't mind that walk either because Disney really does a great job of making their properties so beautiful.
The Property
Coronado Springs Resort is built around a lagoon and it's beautiful.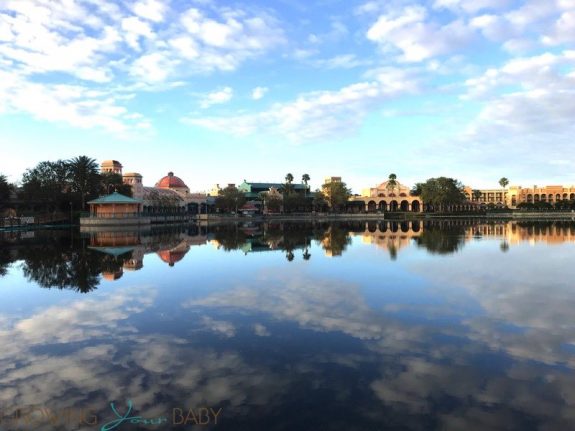 Most of the bars and restaurants are located off the lobby.  The resort is also host to a massive convention center that is located at the front of the property.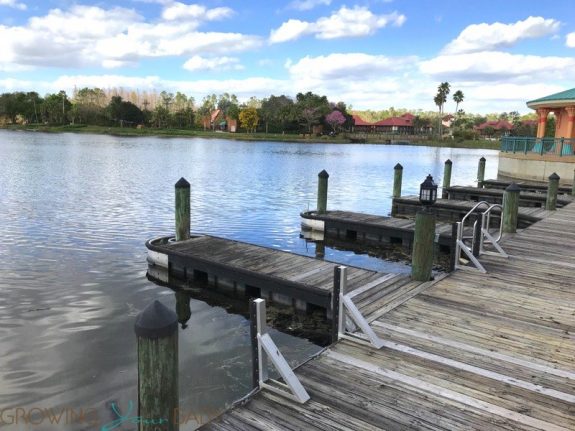 Those who like to jog will be happy to know there is a New Balance Running Trail that goes around the lagoon and through the property.  Every day I would see many people running this route as I headed for breakfast.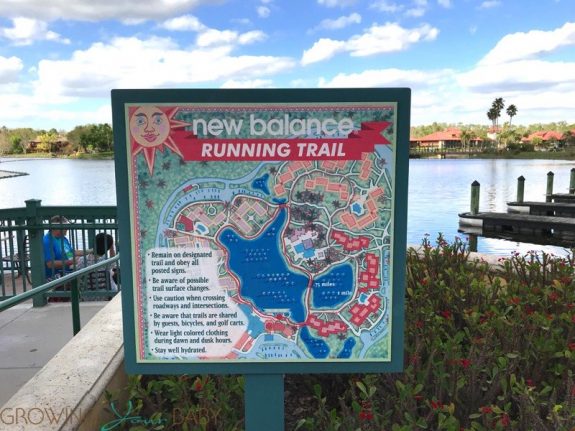 Park Transportation
Because this Resort is so big there are 4 park transportation stations around the exterior of the property.  Ours was number 4 and it was very convenient to our room.  Just a minute or two walk.  It was also the second stop when coming from the parks which we liked.  When you get to the stop area there are TVs that update you on when the busses will be arriving from each park.  We never waited longer than 10 minutes and the bus for each park takes you directly there.
Construction
The resort is growing and as you can see below it's coming along well.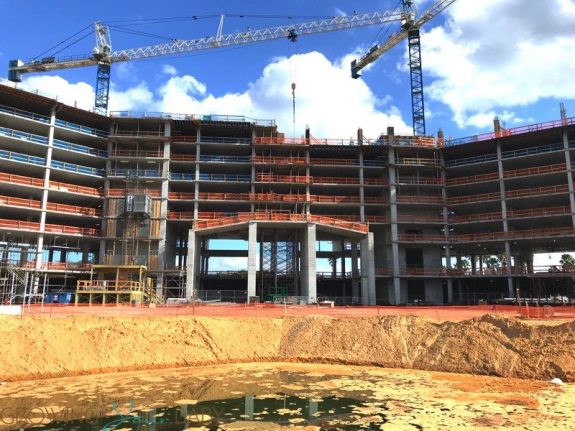 The 15-story tower that is currently under construction can be seen from almost anywhere on the property.   This building will add 500 rooms, featuring suites and concierge-level services.
Prior to arriving I had read reviews that said the construction was loud and annoying but we didn't find that.  By the time we got back from the park each day the workers were gone for the day and we hardly noticed it.  It was certainly nothing like the time I was awoken at 6 am by a construction crew in NYC.
When we arrived there were three Disney pins on the bed apologizing for the construction that the kids were pretty excited about..  This started the pin trading frenzy in our family but that's another story.
We paid $200 for our first night and the last three nights were part of a package with the Disney Social Media Moms conference.  This was a little less than what we paid for Port Orleans last year and we loved this hotel just as much.  If you are looking for good value on property I highly recommend adding Coronado Springs to your list.  The kids enjoyed the amenities and so did we!
Related Articles: