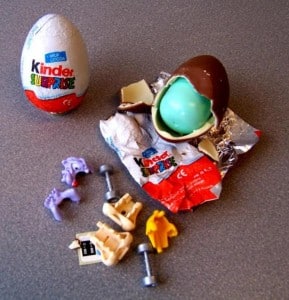 What started out as a memento purchase, turned into a serious ordeal that could have cost a Washington pair $15,000.  While visiting Vancouver recently Brandon Loo and Christopher Sweeney decided to bring home some treats for friends and family.  The treat?  Kinder Surprise eggs.
In Canada these bi-color chocolate eggs grace the shelves of most stores .  In the United States, however, they have been banned since 2008 because the toy hidden inside can pose choking and aspiration hazards to children younger than 3 years of age.  Loo and Sweeney were unaware of the cross-border issues with the treat and picked up six of the eggs before heading home.
"We packed it in the back of the car because we weren't going to eat them," Loo said.
While going over the border their car was searched and border patrol agents found the eggs.
"He said, 'Are you aware kinder eggs are illegal in the United States and carry a $2,500 fine per egg?' And I actually laughed," Sweeney said.
After spending two-and-a-half hours in a border detention center Loo and Sweeney were released with a warning.
"They wasted our time," Sweeney said. "They wasted the money spent on the agents to do this and there are other cars that went through without checking them at all."
Oddly enough the pair was allowed to continue on their way with the toy eggs.
"If it was so important that we be stopped and scolded and threatened with thousands of dollars in fines, you'd think it would at least be important enough for them to take [the eggs], but they didn't," he said.

"Keeping the border secure is obviously important, but somebody needs to take a common sense look at this rule and probably just get rid of it."
Last year alone, Customs and Border Protection says they seized 60,000 Kinder Eggs.