In December we reported on a Ugandan mom who had delivered a set of quintuplets. The four baby girls and one boy arrived weighing between 2 and 3 lbs.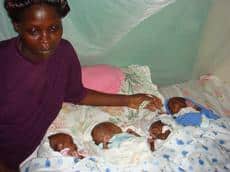 Sadly, one of the little girls recently passed away forcing a doctor originally from Uganda to start a campaign to help the infants.
Because there are no incubators available the babies are being warmed by the kangaroo method, where they are made to lie on the mother's abdomen.
"We met the mother in a tiny room with twin beds where she and a helper were 'kangarooing' the babies, nestling them on their bellies, under blankets, to keep them warm. We knew from the doctor that was showing us around the hospital that one of the girls died recently. The other four babies, according to the head of the ward, were doing OK, although their mother was having difficulty nursing them all, and she had run out of formula." said Emily Bancroft, an alumna from the UW School of Public Health and Community Medicine.
The family still needs clothes, food and lots of support," she said. "Although there are many babies all over the world that could use more food and more clothing, sending donations back to Uganda with Moses is one way that UW students can have a direct impact on one family that needs all the support they can get right now."
I love that a graduate student is doing so much to make such a big difference to a family living on the other side of the world. It is amazing to hear that these little fighters are managing to overcome all of the odds despite the lack of modern medical equipment.
Related Articles:
---
[ad]