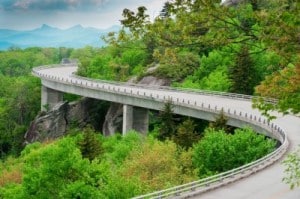 The holidays are fast approaching and many of us have to travel a long way to get a taste of that turkey.  If your family is preparing to journey to the ends of the Earth, in search of green bean casserole and gravy slathered mashed potatoes, you may want to check out myscenicdrives.com, a website dedicated to being a one-stop shop for all your US travel needs.
My Scenic Drives is a great resource when you're planning a road trip.  Whether you have a long way to go or just want a leisurely jaunt, this site will help you find the most scenic route and will also help you plan your stops along the way.  You can plot out your food breaks, find service centers, choose the best hiking trail, and discover some great attractions.   It's like asking a trusted friend's advice.
But, myscenicdrives knows that your road trip might not start in the car, so they have recently added applications to help organize and book flights, car rentals, and hotel accommodations.
They make it easy to download maps, text links to your phone and plug coordinates into your GPS.  It's modern travel planning all in one comprehensive place.
Let's face it, family travel, while wonderful and rewarding, can also be stressful.  Take some of the frazzle out of the planning with a visit to my scenic drives. – Jen R, Staff Writer.
---