22
Jun
2009
by
Lisa Arneill
+
in
Outdoor Toys
,
Sand and Water Table
---
If you can't get to the beach this summer then bring the beach to your backyard. Playing with sand and water is a great way to stimulate a child's sense of touch and helps children learn different characteristics of both elements.
Our favorite picks for this summer are listed below. We love that most of these tables are big enough to accommodate more than one child at a time and they incorporate an element that encourages imaginative play.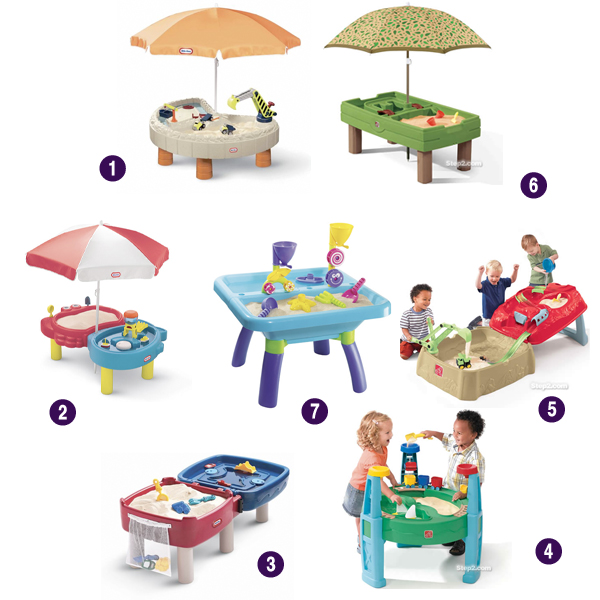 Builders Bay Sand and Water Table – This ultimate construction sand and water table comes fully equipped with a large interactive crane system and water motion controls. Accessory set includes dump and semi trucks, ocean containers and bridges. Includes large umbrella. Multipurpose lids provide additional play surfaces and protection from the elements.$156
Sand and Sea Water Table – It features two play areas – one for creative sand play and one for interactive water play. Comes fully equipped with umbrella, sand and water wheel, tools, boats and bridge. Multi-purpose lids provide additional play surfaces and protection from the elements. $80
Endless Adventures® Sand & Water Play Table Classic – There's a large sand area and a water area with a molded-in roadway, a bridge and a gate that creates an "inner harbor". Two hand cranks let children create currents to sail two boats around the table and in and out of the harbor. Drain the water, store the toys in pouch when finished, and fold the table up to create a smooth-surfaced play table with built-in cup holders. $50
Sand & Water Transportation Station – This table contains two compartments for both sand and water with drain plugs for easy clean-up. Train track runs around perimeter of table and throughout the middle separating the sand and water areas. A removable nylon cover with elastic straps to cove up when not in use. Designed to hold a 42″ umbrella (sold separately). 15-piece accessory set includes: 3 train cars, 2 boats, 3 funnels, 1 spinner, 1 paddle wheel, 1 see-saw scoop, 3 track pieces, and removable nylon cover. $50
Water Rush Quarry – This new multi-level design allows water to cascade from the top of the Water Rush Quarry to the bottom like a flowing river. It eatures two sand play areas (a small area on the top level – large on the bottom level) and cna be easily converted into a small, single level play table. A working crane is great for interactive play, while a toy car track with tunnel and ramp stimulates the imagination. 10-piece accessory set includes 1 crane, 2 bridges, tunnel, dam, ramp, bucket, shovel and 2 construction vehicles – $90
Naturally Playful Sand and Water Table – Includes 8-piece accessory kit with 1 umbrella, 2 bridges, 2 boats, 2 pots and 1 shovel. Lid stays secure with elastic tie-downs and has play area on top. $90
Int-Play Sand/Water table – It comes with a scoop, shovel, rake, boat, sprinkler, two funnels, spinning mills, and waterfall connector. There is a durable road play cover and 10 accessories included. The table breaks down into small stacking pieces for easy storage. It's unique design allows for separate compartments for water and sand. The play accessories can be connected into multiple configurations.$66
---