Melanie Brown was seen at The London Airport today with daughters Phoenix Chi, 8 and 2-month-old Angel Iris Murphy Brown.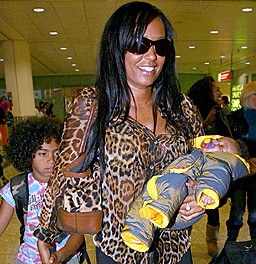 In the picture, she is exiting the airport with Angel in her arms dressed in a snowsuit – yes! a snow suit.
I know that it is supposed to be cloudy and rainy in London today but a snowsuit. Wouldn't a sweater suffice?
{SPLASH}
---
[ad]