If not done properly co-sleeping can turn deadly.  This week the Wichita police confirmed that there had been a steep increase in infant deaths in their area from parents not sharing their beds safely with their infants.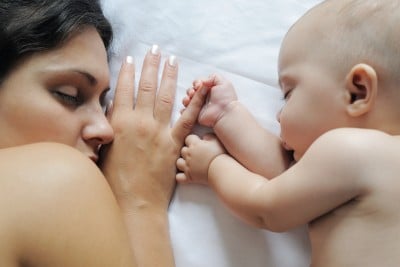 In 2013 the state of Kansas reported 53 sleep related infant deaths – 26 of those deaths were in co-sleeping situations.  In most infant deaths involving co-sleeping, an adult rolls onto the baby and suffocates him or her.
And while experts would prefer that parents sleep apart from their babies, we have some safe sleeping tips for those who want to share a space with their baby at bedtime.
Do:
Make your bed a safe space for baby. Use fitted sheets, and try to avoid fluffy blankets and pillows that could become a hazard. Make sure there are no gaps between your bed and the wall where a small baby could become stuck.
Keep the temperature at a moderate level in the room. If you become cold at night, you may inadvertently pull the blankets up too far. On the other side, a too hot room can cause a baby to overheat when curled next to an adult.
Make sure the mattress is safe. A waterbed is not a safe place for a baby to sleep. Also, mattress that have holes, loose springs, or are broken down can hurt your baby or trap a baby that has rolled onto his face.
Don't:
Do not co-sleep if you have been drinking or taking medications that may cause you to sleep heavier and be unable to wake. Also do not co-sleep if yo are overly tired and risk not waking at night.
Do not co-sleep with any items that cold wrap around your infant. Jewelry, strings, and cords could become tangled around your infant at night and create a hazard.
Do not co-sleep anywhere other than a bed. A couch or chair can cause a baby to become trapped between the parent and the furniture. Couches and chairs also make it easier for an infant to roll off onto the floor.
Last year we also created a list of 5 safe co-sleepers that parents could keep right beside their bed, which gave babies their own space – while keeping them close.
---
[ad]