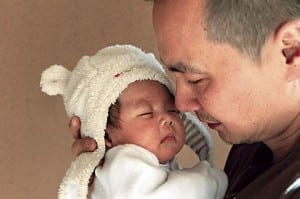 Grace Wang never thought she would live to mother her newborn baby. After a tragic hospital mix-up during labor, Grace found herself in excruciating pain and unable to do more than cry. Despite expectations, she now is almost ready to be home and beginning the therapy that may help her be a mother at last.
Grace and her husband were excited to welcome their first child into the world. That excitement quickly faded when a routine hospital epidural during labor became a horrible mistake. Rather than being injected with the pain numbing medication, her spinal cord was injected with a powerful disinfectant cleaner. Immediately her body began to react as the cleaner burned and destroyed much of her spinal cord nerves.
Due to the mistake Grace has been left unable to walk, experiences extreme pain and numbness in her body, and has been unable to care for her newborn baby. Since the June birth, she has been in the high-dependency ward of the St George Hospital in Sydney, Australia. Many suspected she would not survive her horrible ordeal. Though no one knows how much she will recover, that she is alive is a huge plus for the family.
The new mom has experienced depression since the accident and has not be able to care for her newborn son. Bonding has not been able to happen due to the amount of care that she has required, and her inability to do much. According to her husband, Jason Zheng, the prospect of being wheelchair bound has been especially hard on her and has left her crying often. Though, her son may be working to bring her some happiness.
"Alex smiled to her" Mr Zheng said

Neurological tests have been scheduled to see how much damage was done to her body from the cleaner. Initial assessments show that only her lower body seems to be affected, though to what degree is not yet known. A rehabilitation team has begun assessing the couple's home to see how suitable it is for a wheelchair and other equipment that she may need. With luck, she may be able to return home soon and begin catching up on the parenting moments she has already missed. – Summer, staff writer
Related Articles:
---
[ad]