Two years after the loss of their first son, a couple in India has welcomed all girl quintuplets!  The multiple arrival, however, was met with mixed reactions after it took the new parents by surprise.
Manita Singh, didn't get to have an ultrasound during her pregnancy, so she was surprised to learn that she was pregnant with five babies.  Even crazier?  She didn't find out about the additional babies until she was in labour!
The 26-year-old mom went into labour on Saturday morning at a local hospital in Ambikapur, India.  It was then that doctors learned of the rare pregnancy.  In another surprising turn, Manita delivered all five girls naturally in just about 30 minutes.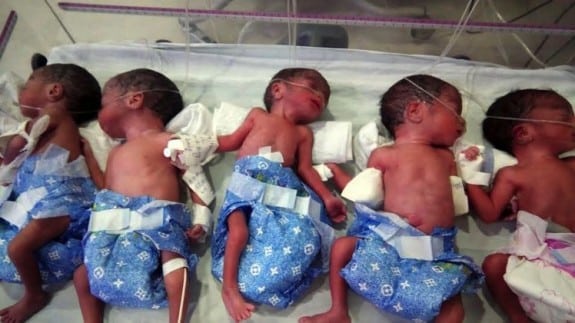 She was just 26 weeks pregnant, but her five babies were born weighing between 1kg and 1.5kg.
"I am extremely grateful to God for blessing us with not one but five children," Mahesh, the father of quintuplets, said. "We were heartbroken when we lost our first child, a son, immediately after birth two years ago. I believe God has compensated the loss."
Adding,
"I only hope that they all survive and I can give them a wonderful life."
The quints are being closely monitored in the hospital's NICU.
Dr. Tekam, who led the team of doctors, told reporters, "This is the first case in my career where I have delivered five babies through normal birth."
"We are very happy for the parents but the babies are under supervision as they all are premature," he continued. "While they are healthy, we cannot say if they will survive. However, we are doing every bit to save them."
Dr Pandey, who heads the Ambikapur district hospital, added, "Our gynecologists' observation says that the babies are premature and took birth in between six to seven months of pregnancy. They all have very low birth weight (LBW) and the survival of such LBW children in the best of hospitals is abysmally low."
Lack of technology and cutting edge equipment makes it difficult for hospitals to meet the needs of such medically fragile infants.
The chances of conceiving quintuplets naturally is about 1 in 50 million.  It is not known if the babies are identical, but if they are they would only be the second set in the world of identical, all-girls quintuplets.  The first set, the Dionne Quintuplets, were born in Canada in 1934.
---
[ad]