As we've shared, time and again, babies will come when and where they are ready. Inam Alghoul learned this first hand after flying 7,200 miles from Abu Dhabi to Chicago, and then delivering her son, Adam, right in the middle of O'Hare International Airport.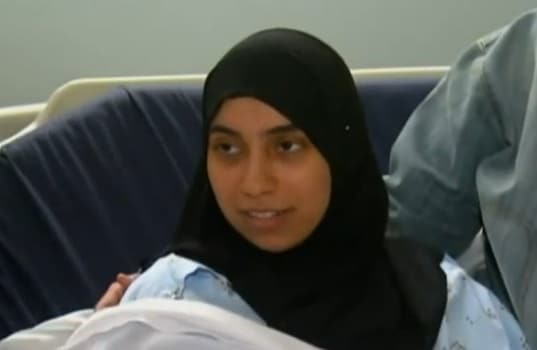 Not due until September 17th, Inam received clearance from two different doctors before hopping on the plane with her husband. Both physicians had told given the expectant mom clearance, telling the couple to enjoy their vacation.
On the plane, everything seemed to be just fine, but immediately after landing, Inam started experiencing some serious pain.
"Too much pain started suddenly, and I told [my husband], 'I don't want the luggage. Call an ambulance. I don't know what's happening," Inam told CBS 2's Suzanne Le Mignot.
Inam's pains were labor pains. Thankfully, there were some people nearby that knew what was happening, and what would need to be done to keep her and little Adam safe.
Chief Brian Bell with U.S. Customs and Border Protection heard the call for an ambulance over the command center radio, and quickly responded to the situation.
"We immediately laid her down. A female supervisor came over to assist. We went ahead and took a visual look, and there was the little baby's head," he told CBS 2 News.
A little on the small side – 3 pounds, 7 ounces – little Adam was rushed to Presence Resurrection Medical Center in Chicago, along with his mother.
He is currently in a special care nursery, and hopefully, thanks to the speedy thinking of those at the airport, will eventually be a happy, healthy little boy; one with a very interesting birth story!
Related Articles:
---