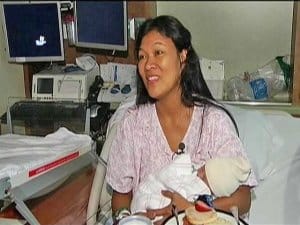 As we've reported many times babies will arrive when and where they please.  And it seems that 30,000ft in the air is no exception.  A mom-to-be  flying to San Francisco from the Philippines Monday night 'arrived with more than she left with' when she gave birth during the trip.
According to the Philippine Airlines Aida Alamillo welcomed a baby boy with the assistance of three nurses on board and several cabin crew led by the flight steward.
The baby, who was born at 35 weeks, was reported as having "good skin color."  When he arrived he gave out a loud cry and started to breast feed. The PAL press release said passengers "cheered as the baby boy filled the cabin with his cries."
An ambulance and a team of paramedics were alerted prior to the plane's landing. The new mom and baby were assisted by the medical team upon arrival in the city and transferred to a local hospital.
Related Articles: