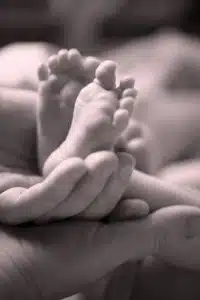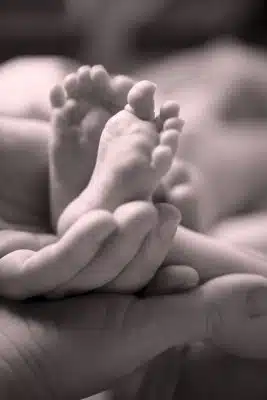 Hayley Lawrence never thought that she would be second time mom in a bath tub. Nor did she ever imagine that it would be her sister who would help her deliver the baby and also save the newborn's life.
The UK mom was at home on Monday with her three year old daughter Leah-Marie when she began feeling that she was going into labor. That is when she called her mom.
Hayley's sister 23 year old Mellissa Fieldhouse was at work when she got a frantic call from her mom telling her that Hayley had gone into labor and because she was over an hour away, she needed Mellissa to help her sister.
Mellissa said, "When I got there she was sitting in the bath with her three-year-old daughter. She thought it was just pressure pains at first and then she said she needed to push and the baby was coming."
Mellissa knew she would have to help Hayley deliver the baby when she called for the ambulance.
"I phoned an ambulance. The contractions were less than one minute apart so the lady on the phone said there was not enough time and I was going to have to deliver her," she said.
"The head was there in a matter of minutes."
With the phone on a loudspeaker and a paramedics advice on it, Mellissa delivered baby Amelia, at 6.45 am just 25 minutes after Hayley went into labor. But the baby wasn't okay. The umbilical cord was double knotted over the baby's neck and round her arm.
Mellissa said, "It was when I turned her around to get the stuff of her I saw the cord around her. Hayley was in shock. She was shaking and just froze – her lips were turning blue."
She quickly removed the cord from around the baby's neck and wrapped her in a towel to keep her warm.
"I had to un-knot it from around her neck," Mellissa said. "It was quite frightening. I was panicking. It was twice looped round her neck and stuck in her arm. But when I saw the cord around her like that I thought I had no time to panic. The paramedics said it was lucky I acted so quickly."
When paramedics arrived they took the mother and baby to the local Hospital. Baby Amelia weighed 6lbs and 14 0z.
After the incident Mellissa recalls how it was the paramedic on the phone who really helped her go through with the delivery.
"The woman on the phone said I was going to have to deliver the baby. I never thought it would come that quick, it didn't seem real. Amelia didn't want to wait. Helping bring her into the world was amazing. The woman on the phone from the ambulance service was brilliant. Without her it would have been a lot worse."
Hayley, who is now at home with Baby Amelia says, "I will never look at the bath in the same way."
And Amelia will surely thank her aunt every year she celebrates her birthday.