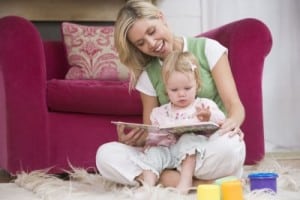 It is tough to juggle a career, a family, and yourself all at ounce. For many women, time becomes a precious resource that there is never enough of. Mothers in the UK may be feeling this shortage more than other mothers according to a survey which suggests they spend the least amount of time with their kids each day.
Compared to Ireland, the US, and Australia, working mothers in the UK have the hardest time balancing their jobs and their children. And it seems like it is the kids who are getting the short end of the stick. The report on mothers was put together by the Organisation for Economic Co-operation and Development. It compiled data from over 11 years and several countries on how much time parents have to spend with their children.
Working mothers in the UK came out at the bottom, with only one hour and 21 minutes per day with their children. This includes time when children are the main focus – covering things like meals, dressing, playing, and reading bedtime stories to children. Working mothers in the US barely averaged more, with one hour and 34 minutes. In Australia, working mothers have one hour and 37 minutes to spend with their children. Other countries, such as Canada, Italy, Sweden and Spain, came out much higher in rates.
Despite these low numbers, many experts say it is the quality not the quantity of time that mothers have which makes a difference. Spending time one on one with children in fun, affirming ways can make up for the little time there is to spare at the end of a work day.
Family and child psychologist Dr Sandra Wheatley said: 'I don't think parenting is a numbers game. The important thing is that children get opportunities to have fun with their parents.

'If a mother gets home from work and spends 45 minutes haring around the living room dressed up as a belly dancer, or making drums out of yoghurt pots, before a quick dinner and bed, that could easily be enough.'
According to Justine Roberts, co-founder of parenting website Mumsnet, Britain needs to be more family friendly to allow working parents the ability to spend time with their kids. She feels that many working mothers are not given the time they need to be at home with their families and building those parenting connections.
She said: 'There is a culture in this country which means that despite the talk of family-friendly policies, women fear that rushing off early at the end of the day to see their kids will damage their career prospects.'
– Summer, staff writer
Related Articles:
---