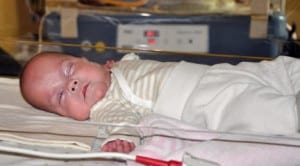 A baby girl, who is being called the world's most premature baby after she was born at just 21 weeks 5 days, is now strong enough to leave the hospital.
The baby, named Frieda, was born on November 7 measuring 11 inches, weighing 460 grams.
The tiny baby's mother, who has asked not to be identified, experienced problems in the 15th week of the pregnancy and was admitted to hospital in an attempt to reverse early labour. Unfortunately doctors were only able to stop labour for a short time before the babies arrived.

Originally Frieda was one-half of a set of twins but her brother Kilian died a few days after being born.
A doctor on duty said that "there is no foreseeable risk of after-effects for the moment" and that the little girl "should develop normally like any other child."

Professor Reinald Repp, director of the paediatric clinic, told the newspaper that her survival was "a miracle" because generally babies born before 22 weeks have no chance because their lungs, heart and brain are not sufficiently developed.

"Frieda was kept in a completely sterile environment, with her breathing assisted and fed through her navel," he said.
Freida, who now weighs 7.7 pounds, has now been given the okay to leave the clinic in Fulda, western Germany, in the next few days.
In the past year there has been a lot of controversy over hospitals not resuscitating babies born before the 'golden' 24 weeks.  In the last 5 years we have covered hundreds of micropreemies that have fought to survive after arriving way too soon.  I applaud this hospital for giving this baby a chance.  On some occasions they can't resuscitate because the baby is too underdeveloped and too small for breathing tubes to be inserted.  Last year a German baby survived weighing a mere 9.7 ounces, which was a record for the country.

Frieda's survival matches the previous record held by Canadian James Gill, who was also born 21 weeks and five days early, in 1987.
Related Articles:

---