Since it was announced in October of last year, The GB Pockit has created buzz like no other stroller we have seen. Weighing a mere 9.5lbs, this tiny stroller folds up to just 12″ x 14″. Take it on an airplane, stash it in your purse of keep it in your suitcase, this stroller is small enough – when it's folded – to be stored anywhere!
Out of the box parents will love that the GB Pockit is ready to go! The box was so small that I was sure it would need to be assembled, but I was wrong. That's how small this stroller is!
Because there isn't a seat recline, the GB Pockit can only be used with kids who are 6 months+. The stroller is rated for kids up to 55lbs and I was impressed that an actually 55lb child DOES fit.  Their legs dangle a bit, but they do fit.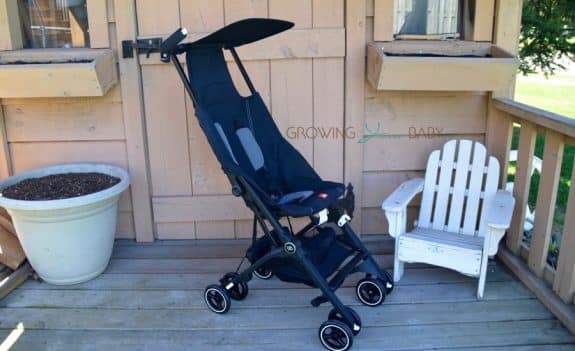 To keep them in place there is a 2 position adjustable 5-point harness with removable should and crotch pads.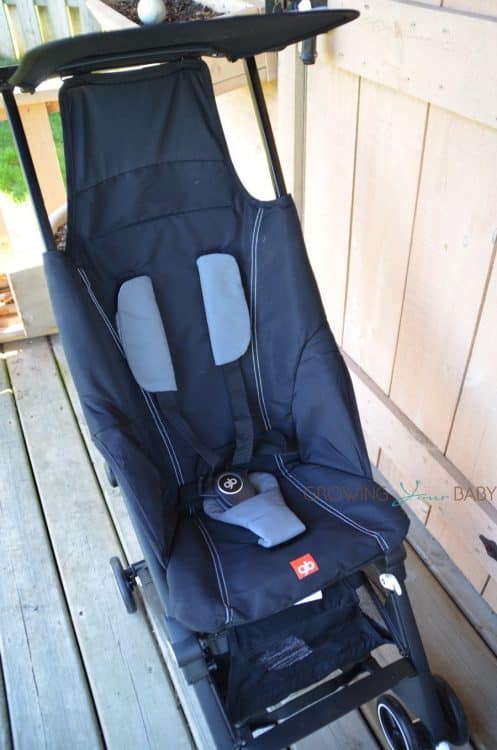 The seat itself is made from a nylon material that is quite comfortable and sturdy. If it does happen to get dirty the whole thing un-clips and can be washed.
For sunny day there is a sun shade. This is not the canopy that we are used to as it is shaped much like a square. Parents who are concerned about sun exposure can purchase an additional sun umbrella. The shade included with the stroller does protect from direct sun, but not as the stroller is moving in different directions. This is one of the trade-offs of the smaller package of this stroller. If the stroller had a rounder canopy like we have seen on other strollers, it wouldn't have the compact fold parents may be looking for.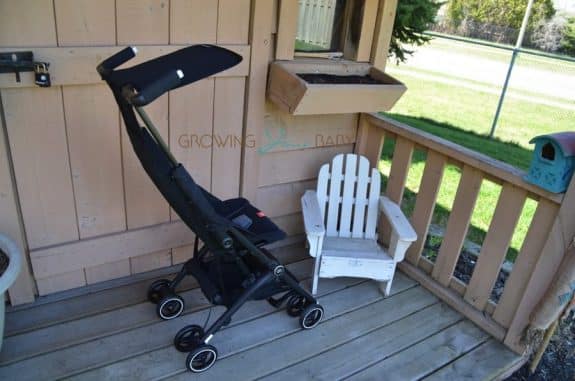 Underneath the stroller there is a small storage basket. Keeping in line with the size and compact nature of the stroller, this basket is petite. We couldn't get a medium diaper bag into it, but we found that Pacapod's changer and feeder pods work really well and you can fit 2 under – 1 for meal items and a second for baby supplies like clothes and diapers. This basket does hold 11lbs, which is impressive.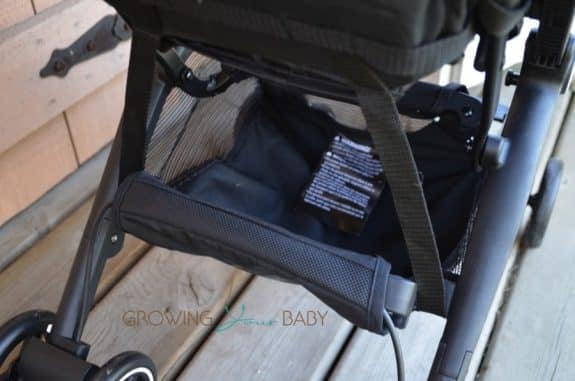 The stroller rolls on 8 – 4.5″, 3 spoke wheels with a white stripe around the outside to give them a sporty look. The front 4 are lockable for bumpier terrain, while the back has a linked brake to keep the stroller in place while you are stopped.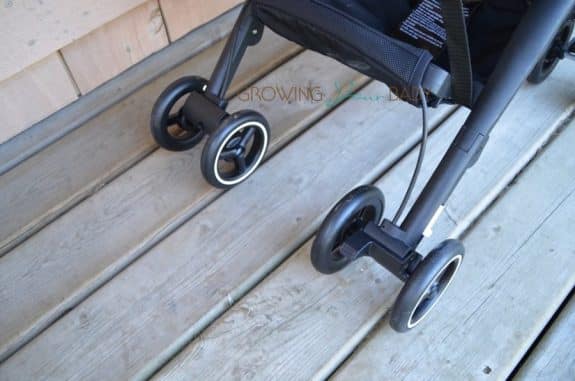 The handle bars on the GB Pockit are shaped in an outward style, which actually gives the stroller more maneuverability. One the ends of the handles are two white buttons that act as levers to fold the stroller down when you are ready for storage.
The biggest feature of this stroller is the fold and it can be done 2 ways. Parents can chose from the easy fold option or ultra compact. If you just fold the stroller when you are done with it you are getting the easy fold option.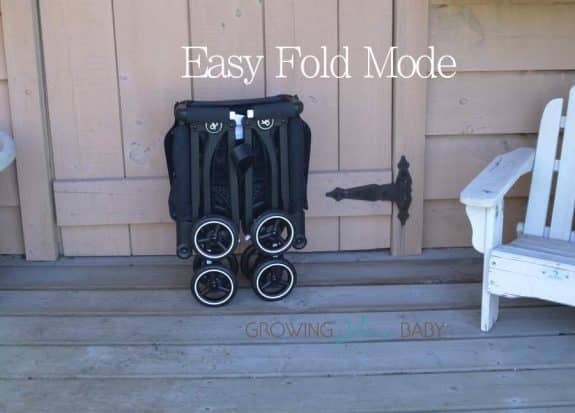 To get it into ultra compact mode you have to fold the back wheels under. Once actually folded down, the whole thing fold in – which further reduces the size.
To keep this tiny package all together there is also a frame lock.  And as you can see, it stands on it's own when folded!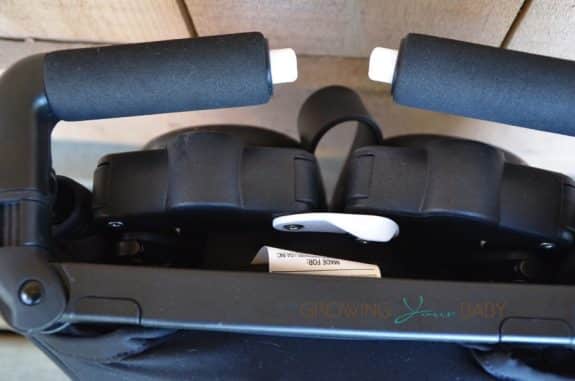 There are lots of compact strollers on the market, but parents need to weigh out what is important to them. If you live in an urban city with limited space or are going to be travelling extensively and need something that won't hold you up for space than the Pockit is a great option!
---
[ad]