Jess Evans was just 12 weeks pregnant with her twins when it was revealed that one of her babies suffered from a fatal abnormality. Expected to only live a short time, the couple made the decision to continue to grow the baby to save others.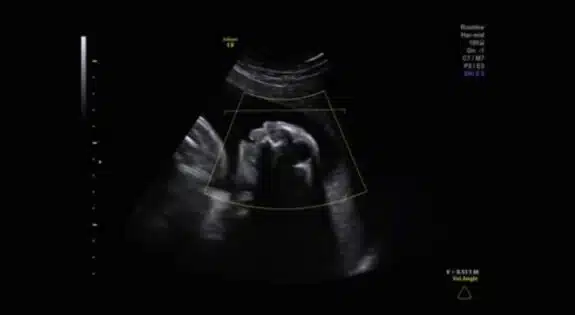 During Jess's, 12 week scan doctors noticed one of her babies had not developed properly. Anencephaly is the absence of a major portion of the brain, skull, and scalp that occurs during early embryonic development. Occurring usually between the 23rd and 26th day following conception, the a neural tube defect happens when the rostral (head) end of the neural tube fails to close. The causes vary from genetics, low folic acid intake, to environmental factors or medications taken during pregnancy.
Affecting about 1 out of every 10,000 births, there is no cure or standard treatment for the condition, and almost all die before birth or within a few hours or days after birth.
Jess described the moment she learned one of her sons would not survive as "soul-destroying".
She told the Daily Mirror, "I think the point when we actually accepted it was when we went for a 4D scan.
"We could see, in a very detailed picture on a TV screen, the fact that his skull hadn't formed properly."
Doctors offered Jess and her fiance Mike Houlston the option to abort their baby, but the couple refused.
She said: "We thought that even if we had a moment with him, or 10 minutes, or an hour, that time was the most precious thing that we would ever experience."
Determining his life would not be in vain, Jess and Mike decided to look into options of their baby helping others through organ donation after he was born.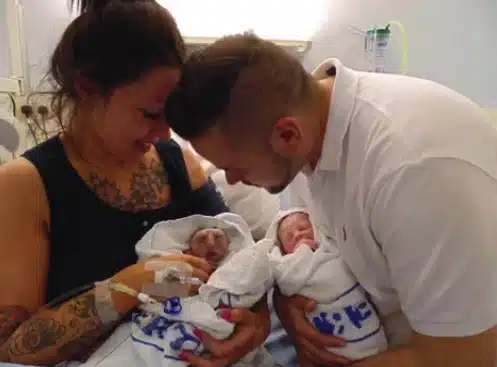 When Teddy Noah Houlston was born on April 22, 2014 he lived just 100 minutes before having surgery to donate his kidneys and his heart valves.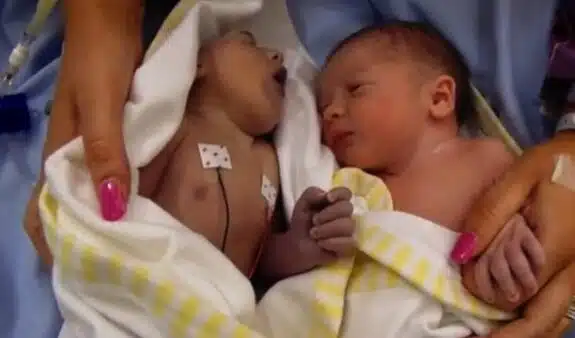 Jess said,
"It helps us so much to know he has helped someone else and helped doctors realise donation from small babies is possible and is something people like us want to make happen."
More than 7,000 people are on the organ transplant waiting list in the UK. Three people die every day waiting for a donor.
Jess and Mike's goal now is create more awareness about organ donation. They have also started a charity called 2 Wish Upon a Star, which aims to improve bereavement services for parents who lose babies or children.
Today his twin brother Noah Teddy Houlston and sister Billie are encouraged to remember their brother when they can. Billie has a 'Teddy' bear that plays a heart beat when you press on the stuffy's fur. But it's not just any heart beat. It was her brother Teddy's, which was recorded when Jess was pregnant.