In an attempt to keep a roof over her head, Nadya Suleman resorted to selling off some of her possessions at a yard sale, this past weekend. The money raised from the yard sale was going towards her mortgage payments which she reported owed $7500.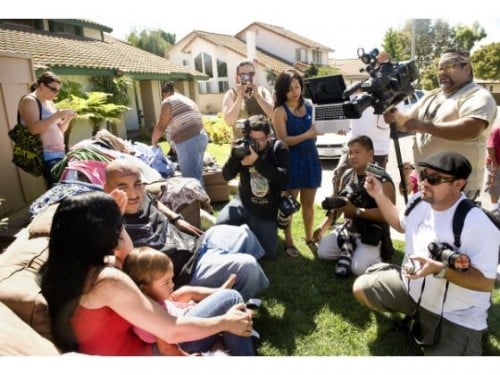 Among the items sold at Suleman's yard sale (as reported by the Orange County Register) included Los Angels Lakers jersey autographed by Suleman sold for $125, eight Halloween costumes worn by her children sold for $50, and a refrigerator used to store baby formula for $85. She also offered people the opportunity to take a picture with her ($10) or with the whole family ($100).
Items that have yet to sell include a signed sonogram, a diaper bag signed "Octomom" and the octuplets' handprints and baby blankets.
As of Monday afternoon the item with the highest bid, $280, was the red bikini Nadya wore on the cover of Star Magazine.
Suleman who is currently on public assistance is having trouble supporting her fourteen children. Before her famous birth to her eight children last year, she already had six other children, all of which were conceived in vitro.
According to the Orange County Register only $2,600 was raised – far less that the $450,000 that will be needed for the balloon payment that is due on October 9th. – Jeff, Staff Writer
Related Articles: