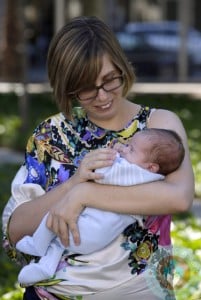 Pastor Vanessa Shepard isn't the first woman to be diagnosed with reproductive cancer, nor is she the first woman to lose her ovaries because of cancer. She is, however, the first woman in Spain to become pregnant after the removal of her ovaries, a beautiful miracle made possible by modern medicine.
Vanessa first discovered that she had a tumor mass in her left ovary in August of 2009. Doctors went in to remove her left ovary; a biopsy proved that she had ovarian cancer. Doctors recommended that she have her right ovary removed as well; this would leave her infertile. So before starting any further treatments, Vanessa went for a second opinion at Women's Health Dexeus in January of 2010.It was here that she would learn that there was a way to enable her to have children later on down the road.
Doctors at Women's Health Dexeus told Vanessa of a procedure that would preserve her eggs until she was ready for them, a procedure otherwise known as cryogenic freezing, and that the clinic would perform the treatment at no cost. Happy to learn she had an option, Vanessa started her first cycle of ovarian stimulation, and later went on to do a second. In all, doctors were able to come up with 14 viable eggs that could be used after clearance from her doctor.
With her eggs now preserved, Vanessa went in to have her remaining ovary removed. After just one year and five months after the removal of her second ovary, she was given the all-clear to have one of the embryos implanted. Unfortunately, her first attempt resulted in an ectopic pregnancy. But it wasn't long before Vanessa was able to try again, this time with success: she carried baby Mario all the way until 39 weeks.
Mario, now the first baby in Spain to be born via cryopreserved eggs, is a healthy baby boy. Born by cesarean, he weighed in at 2.65 kilos (or 5lbs, 8oz). And should his mother and father ever want to give him a sibling, they still have six stored eggs for later use.
While the procedure has long been used to store donated eggs and help increase the success of in vitro fertilization, it has only started being used to help preserve the fertility of women with reproductive cancers more recently. Now, many oncology doctors are recommending this procedure to women diagnosed with cancer, particularly those that are young or have no children. As a result, more and more women are learning that cancer of the reproductive system doesn't have to mean giving up the dream of motherhood.
"The joint work of our teams of gynecologic oncology and assisted reproduction have enabled a young woman not to g8ive up their reproductive project because of a cancer," said Dr. Peter N. Barri, president elect of the World Society for Fertility Preservation.
Isn't it amazing how far modern medicine has come?
Related Articles:
---
[ad]