If you love kombucha and have recently discovered you're pregnant, you may be wondering if you can still enjoy your "mushroom tea," or if you'll have to give it up.
A brief internet search fails to provide a clear answer on the safety of kombucha, especially during pregnancy. Even the experts are conflicted. Some say that the risks of consuming kombucha during pregnancy are just too great. Others say it is perfectly safe, so long as you've had it before and you don't overdo it (they recommend either adding a small amount to a glass of water or drinking no more than a couple of ounces per day).
Who is correct, and what does science have to say about the matter? Keep reading to find out.
What is Kombucha, Exactly?
Made by mixing black, green, or oolong tea with refined sugar and bacteria or yeast, kombucha is a fermented drink with many purported health benefits. People from all cultures and backgrounds have been making fermented drinks like kombucha for years, but it has only recently made its way into the kitchens of health-conscious Americans and Canadians.
Why is Everyone Drinking It?
Like most fermented foods, kombucha contains probiotics, which have been linked to healthy gut bacteria in clinical studies. Some say that beneficial bacteria colonies in the gut can improve everything from bowel movements to immunity and overall wellness. However, there is not enough science to make such an unequivocal statement.
Kombucha also contains B vitamins, which are deposited into the tea during the fermentation process. This essential nutrient is needed by everyone, but it is especially important for expectant mothers. If considering this fact alone, kombucha consumption during pregnancy may seem like a smart thing. However, there are other factors that pregnant women should consider before grabbing a kombucha at the store or starting their own SCOBY.
Pregnancy and Kombucha Safety Concerns
When it comes to the safety of kombucha, experts have two major concerns. First, there is the alcohol content, which some say could compromise the health of a developing fetus. However, there are many health advocates who say it is next to impossible to consume enough kombucha to create any serious issues – even when consuming commercial kombucha drinks that purportedly have over the maximum allowable alcohol. They say it is because the alcohol is a part of the natural breakdown process, and that it is no different than the alcohol that can be found in ripening fruits. Furthermore, homebrewers have more control over the alcohol content, so the argument may be invalid for those that make their own.
Another concern is the potential exposure to harmful bacteria. Most likely to occur in homebrews, exposure can be caused by a contamination of the SCOBY or mold growth. Allergic reactions to mold and live cultures – some of which could be harmful – have also been associated with the consumption of kombucha tea. One can avoid the risk by purchasing a commercial kombucha drink, but experts say that the beneficial bacteria may not survive the pasteurization process, which may make consuming the beverage rather pointless.
Possible Benefits of Kombucha for Expectant Mothers
The possible consumption of B vitamins and probiotics are not the only purported benefits of consuming kombucha. Many say they feel a "boost" after consuming kombucha, and most say it helps improve their energy levels, which can be especially helpful for expectant mothers. It should also be noted that pregnant women have used kombucha to alleviate everything from morning sickness to constipation. Are the benefits real? Perhaps, but some may also be inflated. In either case, one should understand that the purported benefits could be achieved through a placebo effect. At the very least, claims over the amazing health benefits of kombucha may be at least slightly inflated. Consider this when deciding if it is appropriate to continue your daily consumption habit.
Drink with Caution and Know the Risks
Although kombucha is unlikely to cause a serious issue for most expectant mothers, one must consider all the potential risks and weigh them against the possible benefits. Our research has led us to the following conclusion: Though drinking kombucha during pregnancy may not be inherently dangerous for most – particularly for those who already consume it on a regular basis – it is something that should be discussed with a physician. Furthermore, those that have never had kombucha may decide it is best to wait until after the end of their pregnancy to try it.
SOURCE, SOURCE, SOURCE, SOURCE
---
Oprah Winfrey might have been the one to spill the beans on Mindy Kaling's pregnancy, but the Mindy Project star recently confirmed that she is "very, very pregnant" on the Ellen DeGeneres show this past Friday. So far, she seems to be doing quite well.
"I've had a pretty great time of it so far, but I think I took a lot for granted before this," Mindy said. "Like sitting. I'm obsessed with sitting. And even when I was standing back there, I was looking at this chair and I was like: 'Can't wait to sit in that chair, that beautiful, comfy chair.'"
Sitting down wasn't the only thing she couldn't wait for though – the 38-year-old actress couldn't wait to find out the gender of her baby either.
"I am not waiting," she said. "I'm having a girl."
When asked how she felt about Oprah revealing such personal news, Mindy revealed that she had confided in Winfrey while working with her on the upcoming movie, A Wrinkle in Time, which also features Reese Witherspoon. But she hadn't counted on her announcing the news, as she hadn't been quite ready to reveal her pregnancy to the world. Yet Mindy seemed to take Oprah's impromptu announcement in stride.
"If anyone is going to announce big news about your private life, Oprah Winfrey is the person," Mindy told Ellen. "You can't complain that much about it. And you also can't be like, 'Hey, Oprah, zip it' – because she's almost like a religious figure. If there's one person I have to tell my daughter about that revealed her existence to the world, Oprah is pretty good." She also added that "it's probably not a good idea to reprimand Oprah."
It was shortly after Oprah's announcement, which took place on July 17th, that Mindy debuted her baby bump for the first time at the Television Critics Association panel for her show at the Beverly Hilton Hotel in Beverly Hills. She looked radiant a dark, knee-length dress. Mindy has yet to reveal the name or identity of the baby's father – even to close friends – and no one knows if she ever plans to share that information.
---
The National Highway Traffic Safety Administration and Diono today announced a voluntary recall of about 519,052 Radian R100, Radian R120, Radian RXT, Olympia, Pacifica, and Rainier convertible and booster car seats because when the seat is secured to the car using the lap belt without also using the top tether, the seat may not adequately protect the child from injury in the event of a crash. As such, these child seats fail to conform to the requirements of Federal Motor Vehicle Safety Standard (FMVSS) number 213, "Child Restraint Systems."
During testing Diono found that if their convertible child safety seat is installed forward-facing in vehicles with a lap-belt (type 1) only without top tether, it crosses into a technical non-compliance. If their convertible child safety seat is being used with a lap and shoulder safety belt (type 2) or with their SuperLATCH system, or top tether the child safety seat is unaffected.
Not all seats are affected. To check if you are, please answer the following questions.
Is your child safety seat installed forward-facing with the lap and shoulder belt, or with the SuperLATCH system, or using the top tether? If the answer is yes you are unaffected by this notice.
Is your child safety seat installed forward-facing with the lap belt only and top tether. If the answer is yes you are unaffected by this notice.
Is your child safety seat installed forward-facing with the lap belt only? If the answer is yes, you might be affected by this notice.
If the answer to #3 is yes you are only affected if your seat was manufactured after 11/25/13. You will be able to locate this information on the manufacturer's label on the product.
Diono will notify owners, and provide a free remedy kit with an updated instruction manual, an energy absorbing pad, as well as a new chest clip, free of charge. The recall is expected to begin November 22, 2017. Owners may contact Diono customer service at 1-253-256-9939.
---
Women are typically encouraged to take a multivitamin during pregnancy to help reduce their risk of nutritional deficiencies. Now there may be another reason – and it could be related to autism.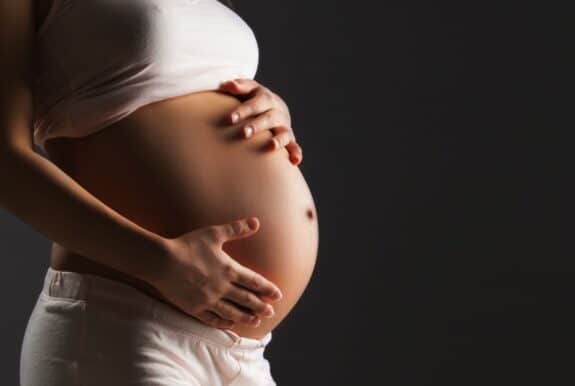 During a recent study, in which researchers examined data on 273,107 mother and child pairs from Sweden, it was found that multivitamin supplementation may decrease a woman's odds of giving birth to a child on the autism spectrum.
"Maternal multivitamin supplementation during pregnancy may be inversely associated with ASD with intellectual disability in offspring," the study authors said.
The subjects were followed from the time they were born (between 1996 and 2007) and then followed until 2011, when they would have been between the ages of 4 and 15. Each was placed into one of six groups, based on data from their first antenatal visit that indicated whether they had taken just iron supplements during pregnancy, folic accident only, iron and folic acid, multivitamins only, multivitamins with iron, and multivitamins with folic acid.
Experienced by about 1 in 68 children in the United States, autism spectrum disorders (ASD) have previously been linked to dietary issues in other studies. For example, there is a 2013 study in which researchers found that women with a higher intake of omega-3 and omega-6 may be a third less likely to give birth to a child on the autism spectrum.
Still, the results of this recent study are said to be purely observational. Furthermore, the study relied solely on the mother's testimony. It is possible that some took supplements, despite not reporting it, and others that reported taking a supplement that didn't. However, the team still feels that the importance of a good multivitamin during pregnancy extends beyond the risk of autism. As such, doctors should continue prescribing them, and expectant mothers should continue taking them.
"Given the current understanding and strength of evidence supporting the importance of nutritional supplementation during pregnancy," they said, adding that "these results on their own should not change current practice."
---
Rumored mama-to-be Khloe Kardashian was photographed arriving at Nordstrom for a "Good American" event in Century City, California on Saturday October 7, 2017.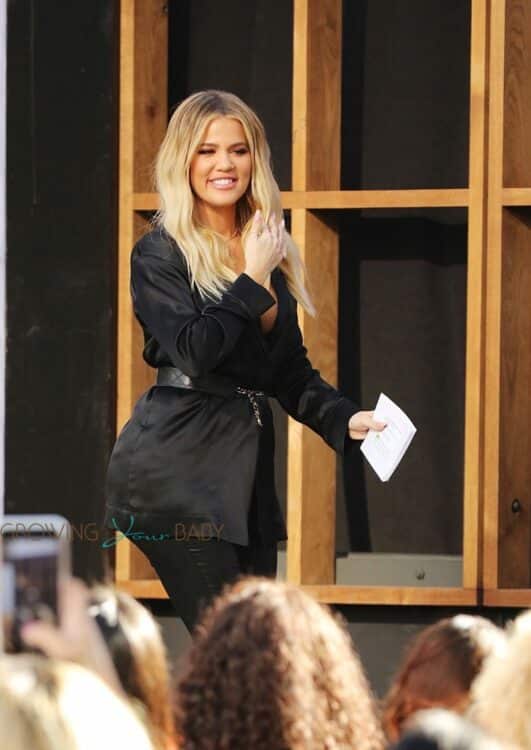 Co-founded with Emma Grede, Good American is a clothing brand designed to fit women of all shapes. The event marked the one year anniversary for the company who announced the addition of mini skirts to the collection.
This is the first appearance for the reality star since it was revealed she is expecting her first child with partner Tristan Thompson. While the pair have yet to officially confirm they are having a baby, many sources have support the claim a new member is on the way.
Khloe rocked the brand's Good Legs Waxed leggings in black.   Her growing belly could just slightly be seen under her satin blazer that was accessorized with a Chanel belt.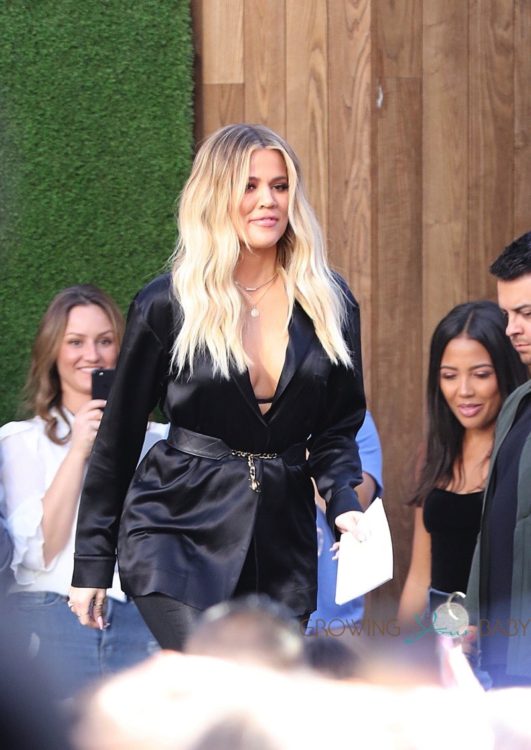 Khloe's pregnancy news completes the family's pregnancy trifecta!  Kim and Kanye will welcome their new baby via a gestational surrogate first followed by sister Kylie and Khloe.
---
An alleged failed kidnapping has left one man severely injured, news sources in Sydney say. Hit by a 47-year-old woman, the 40-year-old pedestrian is currently in stable condition at Westmead Hospital. He has, however, suffered head injuries, and that can have lasting effects.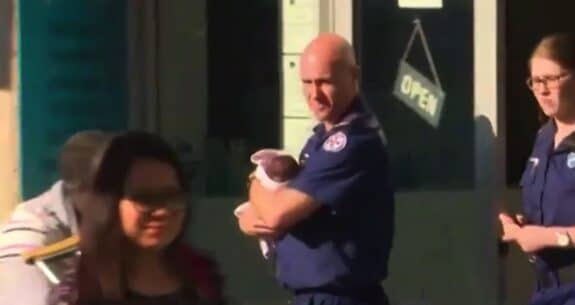 "The was a car speeding, and there was a lady inside," a witness of the accident told 7News. "In the back, there was a baby…The car hit a man and pulled him over."
Authorities say that the baby in the back was the alleged victim of a Blacktown Hospital kidnapping. It had happened nearby, just moments before pedestrian was hit.
The woman who had allegedly been driving the car at the time of the accident is thought to be the grandmother of the child. She reportedly took the infant from the hospital, against the advice from the Department of Community Services. She is now in custody and is being questioned about both matters. Also in custody is her daughter – the alleged mother of the child. The father remains on the run. Authorities have not yet indicated if either were in the vehicle or involved with either of the crimes in any way.
Thankfully, it appears that at least the newborn is safe. Authorities located her after the accident using CCTV. They then took her to Patrick St. Medical Center, but just as a precaution to ensure she had not suffered any serious injuries during the crash. She has since returned to Blacktown Hospital and is now in the hands of community services.
---
If there's anything I've learned as a parent, it's that Lego is full of fun and possibility. They have provided the children in my home with countless hours of entertainment. They have even been a tool for calming my child on the autism spectrum. We've built everything from rocket ships to houses to entire towns – and our days with them still aren't complete.
Love Legos as much as our family? Then you might be just as excited to hear about the Lego House, the Home of Brick!  Spanning 12,000 m2, Lego House offers a totally immersive experience with four different learning zones, the handiwork of some of the most creative builders, and an environment that is designed to be fun for everyone. And, unlike a lot of other theme parks and attractions, it seems to have really considered what is best – cognitively, developmentally, and mentally – for kids of all ages, stages, and abilities.
Designed by the architectural firm BIG (Bjarke Ingels Group), the exterior is created from 21 white bricks stacked on top of each other. Its facade is covered with tiles, giving the illusion that the whole building is made of LEGO bricks.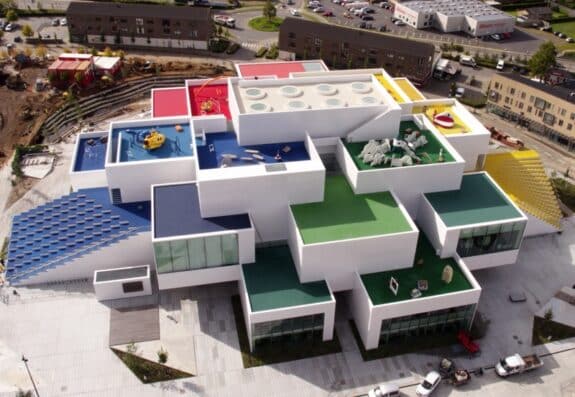 For LEGO owner, Kjeld Kirk Kristiansen, the house is a place where LEGO fans of all ages can find out much more about where LEGO play can take you.
"It has been a dream for me for many years to create a place that will give our visitors the ultimate LEGO experience. With LEGO House, we celebrate creativity and the strength of learning through play. When they play, children learn the basic skills that they need, such as creativity, collaboration and problem-solving abilities," says third-generation LEGO owner, Kjeld Kirk Kristiansen, and adds:

"At the heart of all LEGO experiences – from the boxes of LEGO bricks that children have at home to this fantastic LEGO House that we are celebrating today – is the unique and timeless LEGO brick. With LEGO bricks, you can express yourself creatively and make anything imaginable. The possibilities are endless, and nowhere else in the world can you experience it in the same way as in LEGO House."
The experience zones are based on four different colours, each representing a special aspect of play and learning. Red is for creative skills, Blue is for cognitive skills, Green is for social skills and Yellow is for emotional skills. Each colour zone has a number of activities that encourage visitors to play.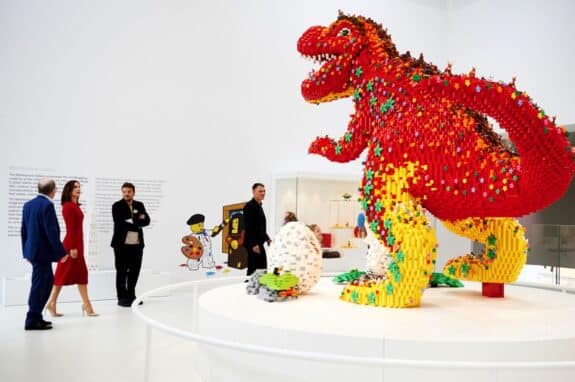 The Red Zone is where creativity takes flight and the blocks never run out. Children and adults alike can craft whatever their hearts desire, and there is even a lab with an instructor. Brick Builder blocks are there for the older children, and there are the larger DUPLO blocks for the younger kids.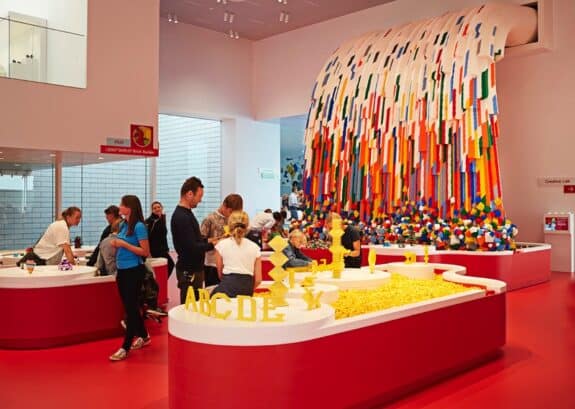 In the Blue Zone, children use logic and cognitive abilities to build their very own robots! They can also build entire cities in City Architect, and they can craft a vehicle that is capable of defying gravity in the Test Driver. In short, this is where imagination and innovation collide!
The Yellow Zone is all about teaching children how to manage and express their emotions appropriately, but it's all done through play!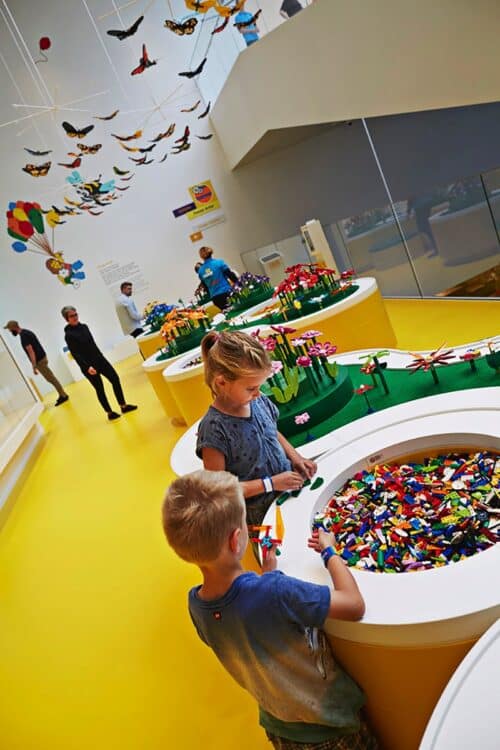 Then you have the Green Zone, where children practice their social competences and can even make their own movies.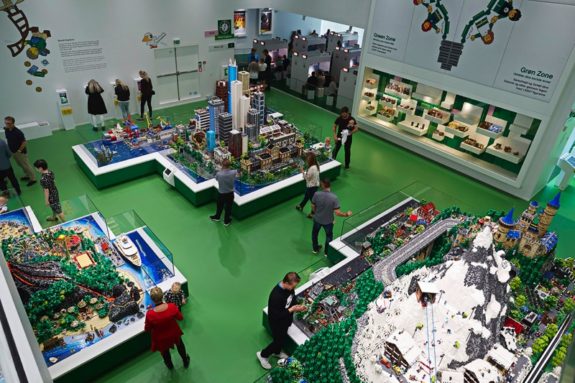 In addition to the experience zones, the enormous bricks house a sheltered public space and a number of interconnected outdoor terraces and playgrounds for visitors to explore and enjoy. From LEGO Square, you have free access to three eateries and a big LEGO Store.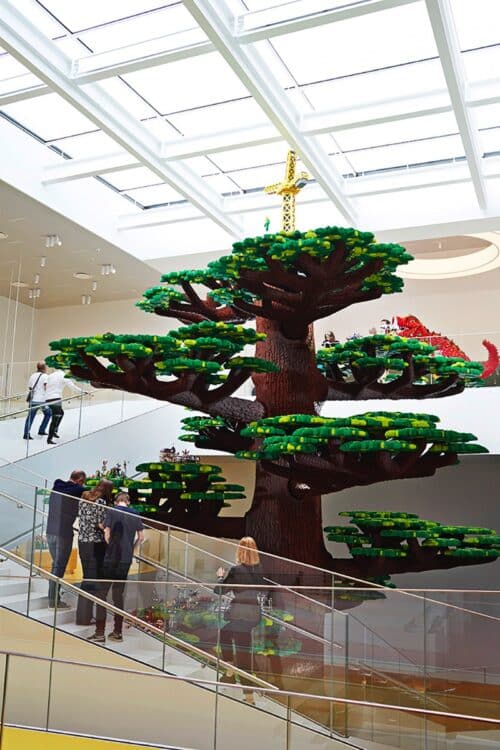 Located in Denmark, the Lego House took four years to build. They just opened their doors in September of 2017. Families can now plan entire trips there, but make sure you take some time to check out what other attractions there might be in Denmark, as the Home of the Brick may not be enough justification for such a trip on its own (but for some families, it could be).
---
The U.S. Consumer Product Safety Commission (CPSC), in cooperation with Toys "R" Us Inc., of Wayne, N.J. has announced a voluntary recall of about 32,700 Bruin infant wiggle ball toys because the ball's rubber knobs and plastic back can detach, posing a choking hazard to infants.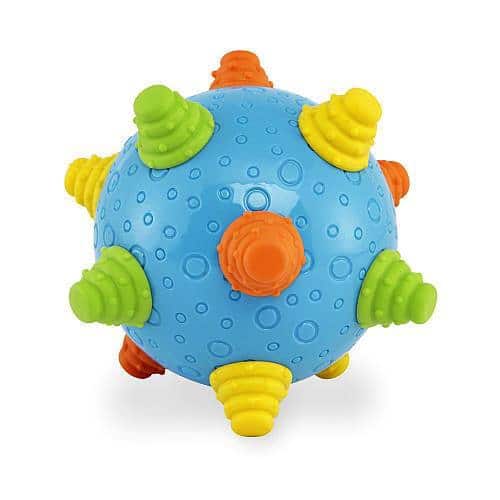 The firm has received six reports of rubber knobs breaking off, including four reports of pieces of the product found in children's mouths.
This recall involves Bruin Infant Wiggle Ball toys also called a giggle ball. The blue ball has textured bumps for gripping and has orange, green and yellow rubber knobs around the ball. The ball wiggles, vibrates and plays three different musical tunes. It has an on/off switch and requires 3 AA batteries to operate. The recalled wiggle balls have model number 5F6342E and Toys "R" Us printed on the product.
Consumers should immediately stop using the recalled balls, take them away from babies and contact Toys "R" Us at 800-869-7787 from 9 a.m. to 5 p.m. ET Monday through Friday, or online at www.toysrus.com and click on Product Recalls for more information on how to receive a full refund.
---
Among non-supporters, Planned Parenthood is most known for its birth control and abortion services – and that can skew how people think about them, especially if they've never been. Why discuss it? Because PP offers some of the most affordable and comprehensive health services in the United States, and they focus especially on the underprivileged, overlooked, and discriminated. They offer counseling, guidance, and comfort. They provide many with a better quality of life, and that is worth supporting.
Community-Based Services
Each one of Planned Parenthood's 600 locations is locally governed and designed to fit its community's needs. Staffed by educated and compassionate health care professionals, they provide services in a trusted and safe environment for 2.4 million men, women, and young people each year. They also provide aid to people in the LGBTQ community, provide online and outreach services in areas that have high rates of teen pregnancy and STD transmission, and they offer comprehensive reproductive cancer screening services.
Family Planning Services
Planned Parenthood receives a lot of attention for its abortion and birth control services (including emergency contraception), but did you know that they offer other family planning services as well? They offer pregnancy tests, and they provide guidance and assistance to women who want to have a healthy and successful pregnancy. They even have a period tracking app that women and couples can use while trying to conceive.
Sexual Health Services
Sexual health goes well beyond free condoms and sex education (which are offered by PP and desperately needed in many communities). It also includes things like:
Testing for sexually transmitted diseases (including HIV);
Pap smears and breast exams;
Colposcopies;
Mammogram referrals;
UTI testing and treatment;
Vaginal infection testing and treatment;
Cervical cancer screenings;
Incontinence;
Female infertility screenings, treatments, and referrals;
LEEP procedures;
Menopause testing and treatment;
Sexual response education;
Hormone therapy for Transgender patients;
Education, support, resources, and referrals for persons in the LGBTQ community;
Education, referrals, and assistance with HIV-related issues;
HIV prevention options (PEP and PrEP);
Education on the different types of birth control (and help in deciding which is right for you);
ED education, referrals, exams, and treatments;
Male infertility screenings and referrals;
Premature ejaculation education, exams, and referrals;
Testicular and prostate cancer screenings; and
Male sterilization (vasectomy).
If you noticed, there are also male services included in the sexual health portion – so yes, PP also offers services to men and adolescent males. No matter what stage of life you're in, no matter what your age, gender, sexual identity, or sexual orientation, PP is there for you!
Online Services
A fairly new (but very exciting) service now being offered by PP is the option to complete your appointment from the comfort of your own home. You can request a refill on your birth control prescription, obtain STD tests in the mail and discuss them online with your PP provider, and receive testing and treatment for a UTI. Keep in mind that, because it is still a new and emerging service, it is not available everywhere. Instead, it is being offered in a few select locations, and it may grow with time, depending on its success.
Support Your Local Planned Parenthood
Planned Parenthood has always been a sensitive topic of debate in America, but recent developments put a lot of pressure on them. Whether you know someone who visits PP for sexual health or family planning services, have gone to one at some point in your own life, or are simply looking for a worthy cause to donate your time or money to, stand with Planned Parenthood and support your local community. We do!
---
Bugaboo's Donkey stroller has been one of the most popular strollers for parents looking to expand their family.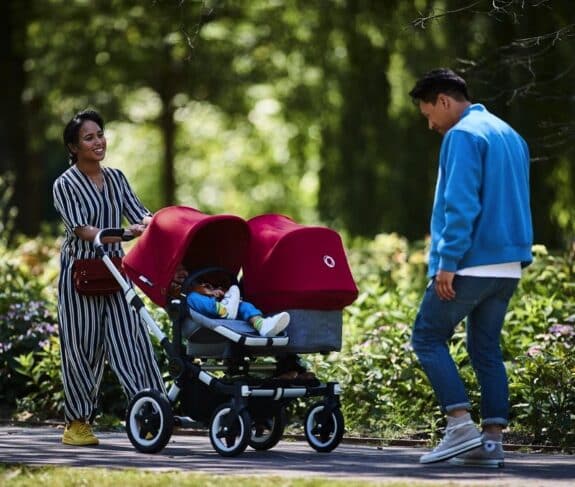 Featuring the brands patented expansion system, the stroller in the only one on the market that can be expanded sideways to accommodate one seat or two.
New for 2017 bugaboo has updated the stroller to include foam tires and new fabrics.
When configuring their stroller, parents can choose one of bugaboo's most popular options, or create your own configuration from an aluminum or black chassis, one of three base fabrics: black, grey mélange or blue mélange, and one of eleven colors for the sun canopy and side luggage basket cover: sunrise yellow, ruby red, sky blue, soft pink, olive green, black, red mélange, blue mélange, grey mélange, wWaves print or Botanic print.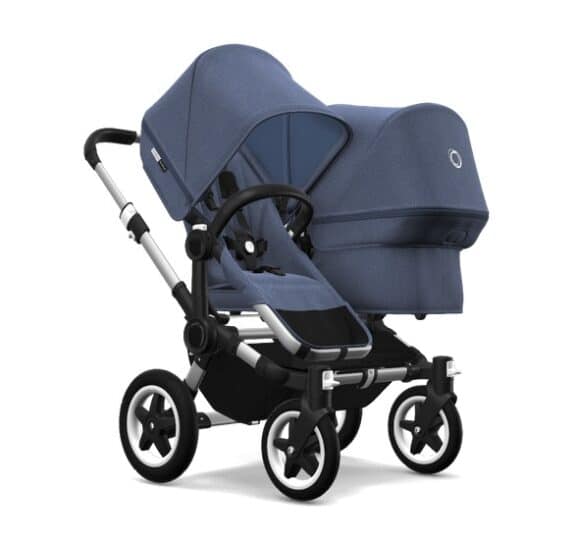 Having one baby but looking to grow your family quickly? The Donkey² starts off as a single with their signature basket on the side. As your family expands, the chassis can be extended out to accommodate a second seat or bassinet.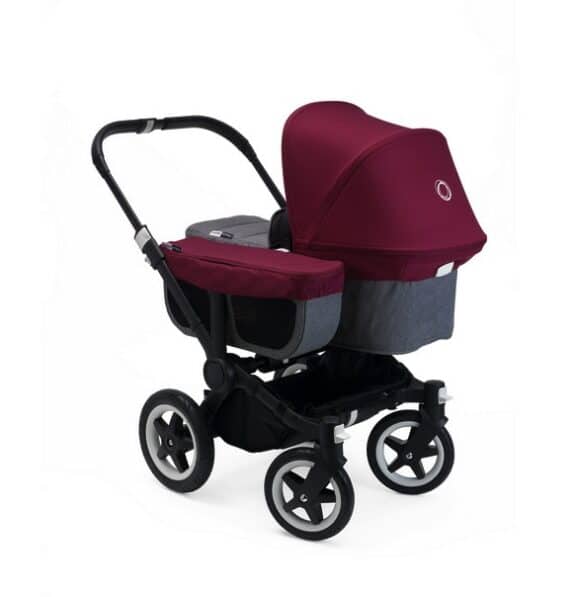 Two bassinets, two stroller seats, facing in or facing out; the Donkey² can be configured infinitely for parents of children of all ages and development stages.
The Bugaboo Donkey² is easy to push and maneuver with one hand thanks to the front swivel wheels and tight turn radius. No terrain is too rough for these big foam-filled tires, even when the stroller's fully loaded.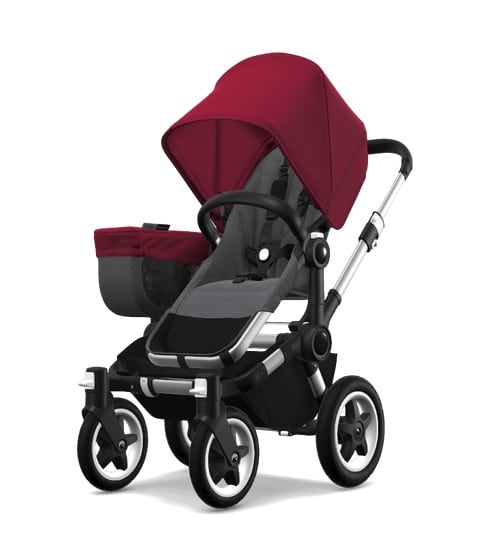 The Bugaboo Donkey² has a side luggage basket cover matching the sun canopy.  Stock up on your necessities because it holds 22lbs!

---