Over the past few years essential oils have increased in popularity, but so has the risk.
So much so, the Tennessee Poison Center is reporting that the number of essential oils exposures doubled from 2011-15 and 80 percent of those cases involved children.
A newborn in India is believed to have taken the title of the heaviest female infant ever born after the baby girl arrived weighing 15lbs!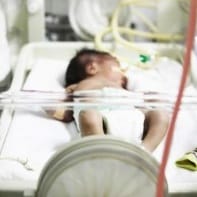 Looking to curb these stats, a Utah company has developed groundbreaking technology that could help predict premature births.
When one little boy was found to be growing inside his mom's womb without the back of his skull, doctors believed he wouldn't survive the delivery. But today, his parents are counting their blessings after he arrived crying, and continues to thrive every day.
Tis the season for fresh fruit and vegetables.  But which ones should you be grabbing from the organic counter? Every year the Environmental Working Group (EWG) releases their 'dirty dozen', a list the group compiles after they analyze test results of more than 35,200 samples of fruits and vegetables taken by the U.S. Department of […]
The method for reporting Zika cases has changed, and with that change the number of pregnant US women infected with the disease has suddenly tripled. The Centers for Disease Control and Prevention (CDC) announced the reporting change on Friday.
The U.S. Consumer Product Safety Commission in conjunction with phil&teds, of Fort Collins, Colo., has announced a voluntary recall of about 870 phil&teds dash strollers(sold between August 2015 through April 2016) because….