UPDATE AUGUST 15TH: We are sad to hear baby Jaden passed away.
KCCI reported on August 5th, 2019 the baby born in Des Moines weighing only 13 ounces has died, according to family members.
Ellonn Smartt, mother of Jaden Wesley Morrow, confirmed to KCCI on Monday that the infant died surrounded by his family.
ORIGINAL STORY: At just 23 weeks pregnant, Ellonn Smartt went about her day like normal. She went to work, stopped at the grocery store, and then returned home.
But something felt . . . off.
"I think he's going to come today," Ellonn had told her partner, Jordan Morrow.
About 10 minutes later, her water broke.
The entire family piled into the car and headed to Blank Children's Hospital. Comfort and support came from an unlikely source during the fateful trip: Ellonn's three-year-old son.
"Mommy, everything will be fine," little Elijah said.
"We think kids don't notice these things or understand what's going on, but he did,"
Though she had intended to have a natural home birth, Ellonn found herself in the operating room, undergoing a Cesarean section for her very premature baby.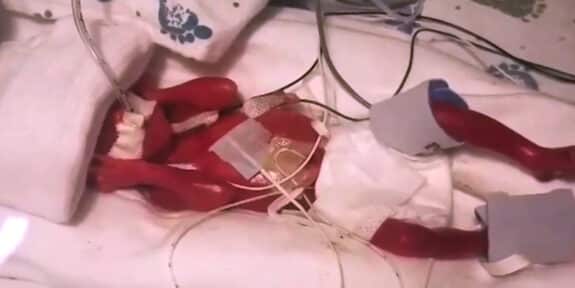 He wasn't expected to live.
At this stage, babies aren't ready to survive outside the womb. Their lungs aren't fully formed, and they usually don't have full use of their limbs, but little Jaden is more than just a survivor.
Doctors are calling this 13-ounce bundle of joy an outright miracle.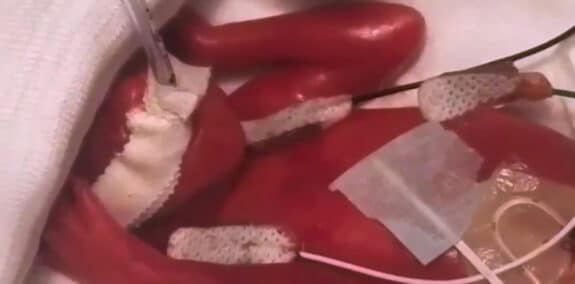 Ellonn had initial concerns over her son being born so early, but little Jaden came out screaming and swinging his little arms and legs. He even started taking breastmilk, right after his birth.
"It taught me there's always a plan, and we learned to be patient," Ellonn said. "Jaden is here, and that's all that matters."
He is being held in an incubator, due to him being so premature, but Ellonn says her worries have been laid to rest. All she's concerned about now is Jaden growing quickly so she can begin to hold him.
"We have a long way to go," the mom said. "[But] I'm so proud of him . . . I go in and talk to him, and I tell him that I'm proud of him every day."
This adorable little guy is expected to be released home by his original due date, in November.