Not all parents want to push strollers. Some want a transport system that allows them to bring home groceries and can be used in a variety of outings like at the beach, park, and through the snow. There are few strollers that can truly make it through a Northern snowstorm.
Many brands have taken these requests and evolved the classic wagon into a rolling limousine for little ones with comfy seats, tons of storage, and all-terrain wheels.
We have rounded up our favorites. Here are the six best stroller wagons for 2021(in no particular order)!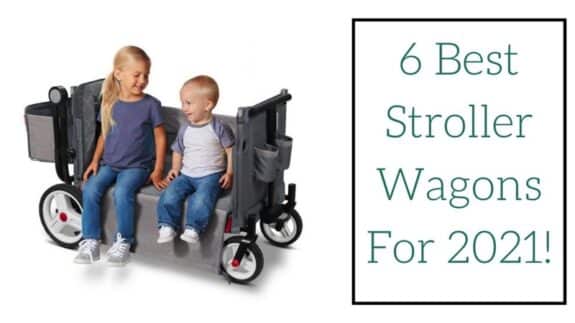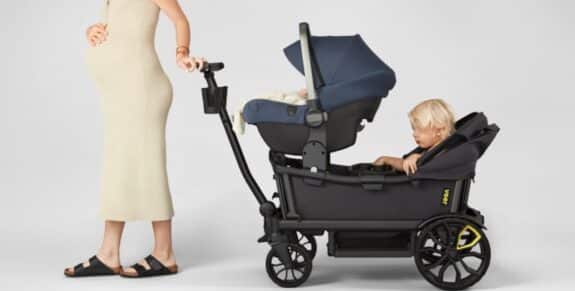 Veer has created a versatile wagon that can be customized to your family's needs. Infant and toddler? Use the infant seat adapter along with the toddler 5-point seat. Two kids – two seats. One canopy, two canopies, snack tray they have thought of everything.
The handle can be used as a push or pull depending upon your terrain and you can add the pannier to the back for market days or to haul your gear.
When you're done the whole package folds up easily.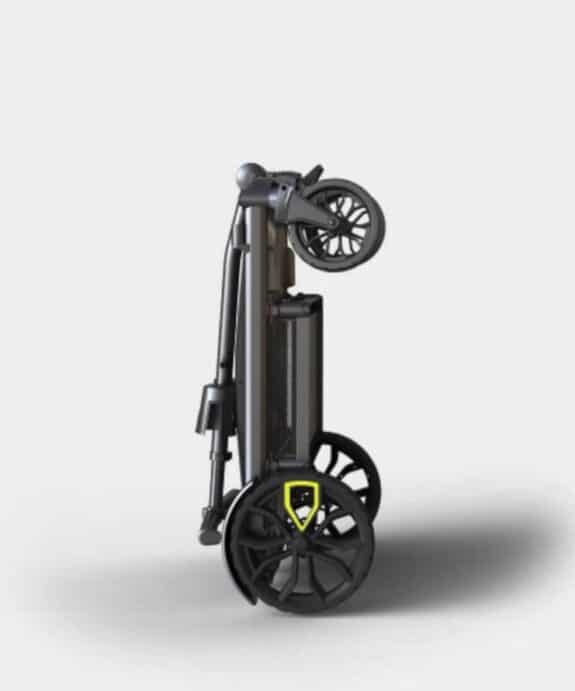 The base wagon retails for $599. Infant seat attachments, toddler seats, winter package, snack tray, cupholders are all add-ons.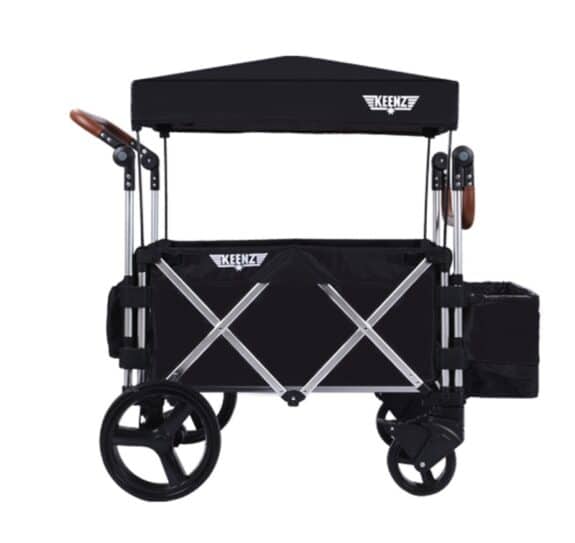 The Keenz 7S is a rugged stroller wagon that is designed with two 5-point harnesses. It features a single large canopy to protect your babes during sunny or rainy days. An additional rolldown shade on one side of the canopy ensures additional coverage which is nice if you are out on a hot day and you want to make sure your kids are safe from the rays. This also comes in handy if your little one needs to nap while you're out.
To keep your kids in place the 7S comes with 2 5-point harnesses and a generous pannier for shopping.
The front wheels are 7.28″ and the back wheels are 11″ to give you traction over many terrains. It was designed with a handle on its side to allow you to easily push or pull the wagon over sand or snow.
It is easy to fold and transport and weighs just over 32 lbs.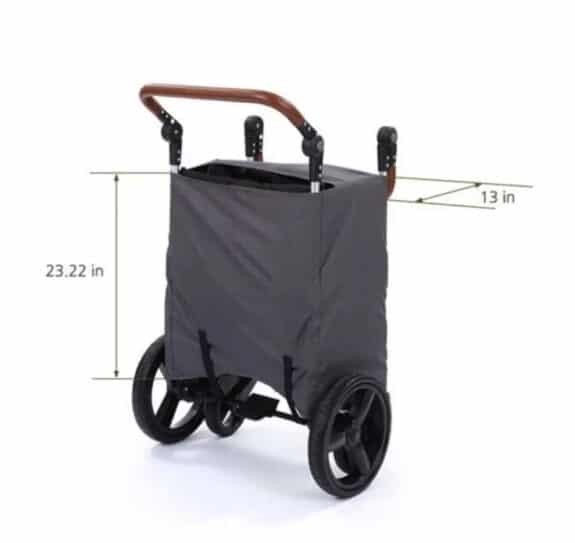 The 7S retails for $699US and it comes complete with a cup holder, grey cooler bag, canopy storage bag, and travel storage cover. Parents can add on a mosquito net, hand muffs, bigger wheels, Winter cover, and cupholder for an additional cost.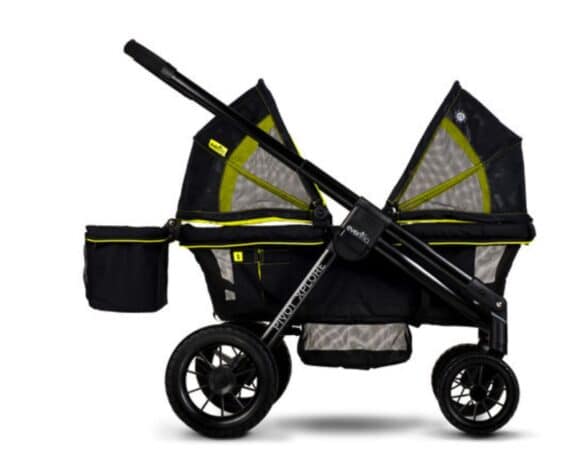 Part stroller, part wagon the Pivot Xplore™All-Terrain Stroller Wagon provides extended use by accommodating 1 or 2 kids up to 5 years old.
The Pivot Xplore easily transforms from a stroller to a wagon by flipping the handle. This gives parents the ability to push as a stroller, or pull as a wagon. Pile all your stuff in and ride on out!
Each seat holds a child up to 55 lbs., 120 lbs. total with storage. It folds like a double stroller.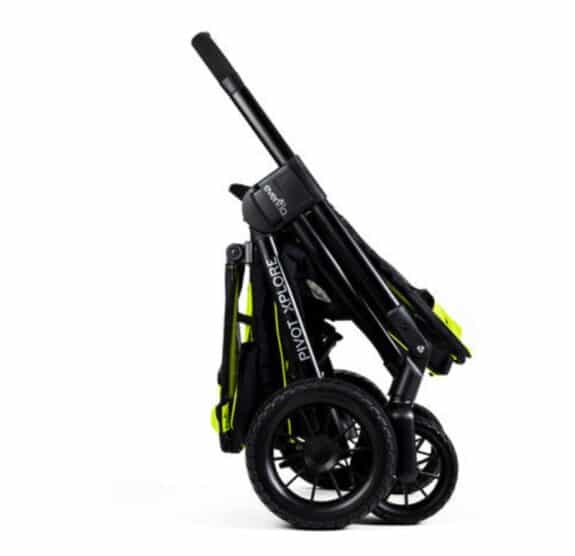 The Pivot Explore comes complete ready to go for two kids. Parents can add on an additional stroller seat or infant car seat adapter.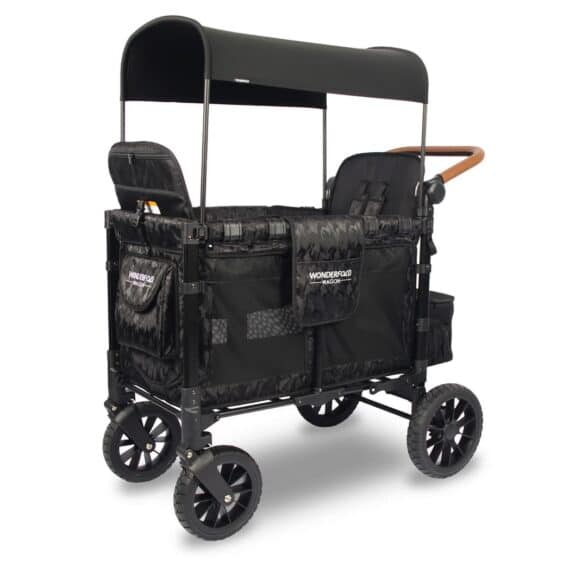 The WonderFold W2S 2.0 Double Stroller Wagon features 2 face-to-face seats, an adjustable handlebar, and a removable canopy. Perfect for any outing, this double stroller wagon has a 200 lb. weight capacity and easily folds for transport
The Wonderfold is robust. So much so it resembles a playard on wheels. It is described as a deep carriage with zippered mesh panels for optimal ventilation. It features a single canopy that can be adjusted based on your child's needs.
Each child sits in a reclining seat with a 5 point automatic magnetic harness.
Perfect for longs days out there is extra storage on all sides of the body including a detachable rear basket, Back panel pocket, Seat pouch
Parents can push or pull the stroller wagon and it was designed with all-Terrain XL PU Tires to easily go over sand, snow, or through the mud.
The W2S 2.0 retails for $589 US and it comes with everything in the picture. Parents who need to transport more than 2 children will be happy to know it also comes in a W4S 2.0 which holds 4 kids.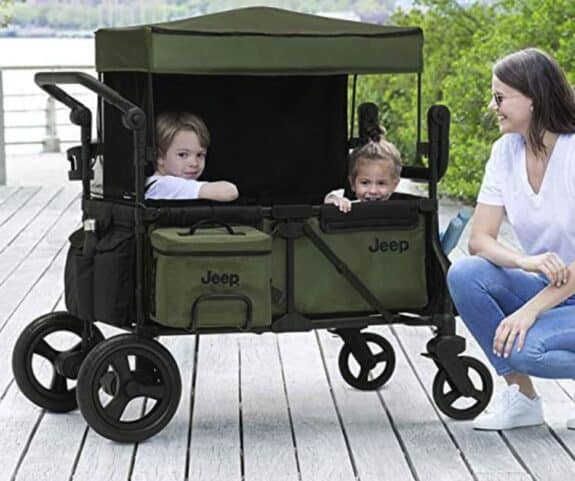 Jeep's Deluxe Wrangler Stroller Wagon offers parents 3 ways to ride:
Attach car seat with the included adapter;
Stroller Mode: Use two 5-point safety harness seats for older kids;
Wagon Mode: Haul all your gear to any activity
It features quite a bit of storage for the day out including a detachable cooler bag that holds up to 16 cans (or 15 lbs.); Parent organizer with 3 storage compartments and front zipper pocket; 1 parent cup holder; Large front and back storage pockets.
Parents can use either of the 2 adjustable leatherette handlebars to push or pull the wagon. Eight-inch Swivel front wheels make for easy turning, while the all-terrain 12" puncture-proof airless tires.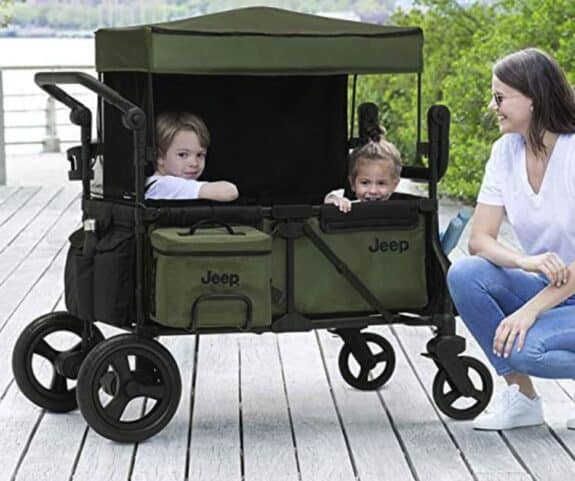 To protect your little ones from the elements the Jeep Deluxe has a removable UV blocking fabric/mesh canopy and roll-down shade.
The wagon holds up to 110 lbs. (55 lbs. per seat); Age w/ adapter 0+; Age in stroller mode 6 months +
Jeep's Deluxe Wrangler Stroller Wagon retails for $379.99 and it comes standard with everything you see in the picture. Parents will need to purchase the infant adapter if they would like to use it from birth.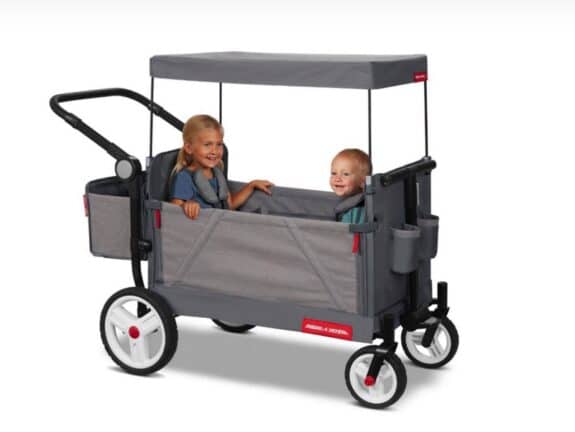 The leader in the classic wooden wagon market, Radio Flyer has created a crossover to compete in this new category.
The Odyssey wagon features interior mesh storage pouches, perfect for carrying items like sunscreen, small toys, keys, and other on-the-go essentials. Large 12" rear wheels are easy to push, and all four wheels have durable rubber treads and bearings to provide a smooth, easy ride. It also features DuraClean® 2.0, their highest quality fabric, which is extremely durable and easy to clean.
It is also equipped with additional touches like 4 total cup holders and a roll-up UV protection canopy and the ability for parents to pull or such the wagon.
What I like is that one of the sides can come down so kids can use it as a seat if you're out at a sporting event or somewhere they need their own comfortable seat.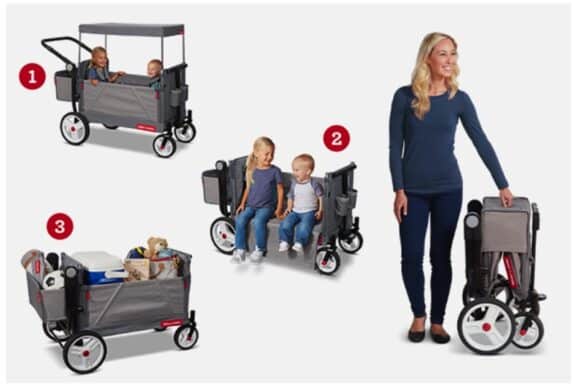 Priced at $269.99 this stroller wagon comes with everything in the picture.